Posts

1654

Joined

Last visited

Days Won

2
schardein's Achievements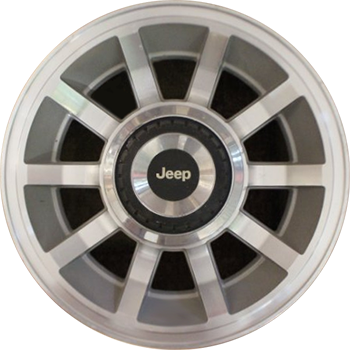 MJ Junkie (6/10)
It was pretty picked over when I got there. But it did have these sometimes hard to find jack mounting/stowage parts. Not shown, I also grabbed the jack crank handle, they are different than the XJ.

If you have pick-n-pull type junkyards near you, you might go check out 70s-80s GM full size vans. They used similar steering column mounted shift indicators. They were lighted from the factory. Older ones will be for 3 speed transmissions (like TH350/TH400) later will be four speed (like 700R4). Here is an example of a 3 speed type. You can see the bulb in the lower bracket that is wired into the dash lighting circuit. You best bet is to find and pull one in a junkyard yourself so you see how they come off/are installed, so you can adapt it to your column.

At Buddy's UPull 9 Dec, 2021.

OK gents, here is an update. I've done some searching and here is what I found: Apparently 1993 Jeep Grand Cherokees (and maybe 94?) used this same plug (male and female) in the tail light wiring. I looked on Rockauto and they have a trailer harness for a 93 GC (WVE brand, part 4T1062) that looks to have the same connectors. Would this part number be a plug and play on a 91-92 Comanche? No idea. Maybe, maybe not, and at $65.99 that's a big gamble. If they aren't plug and play, maybe the connectors could be re-pinned to work? In any case, 1993 (maybe 94) Grands will be the vehicle to find in junkyards, to see if the connectors can be reused for a home brew plug and play trailer harness like the Cadillac connectors are now.

OK. Is it worth grabbing any of it? MC/Slave/Line?

I think the clock had some flaws that don't show in the picture. I generally only grab them if they are perfect or close to it. What do you mean by the good clutch set up?

Interesting. Can anyone else with a 91-92 MJ confirm that the taillight harness uses a different connector? Hate to say it, but assuming that connector can't be sourced, one option would be to cut that connector out completely, then wire in the Cadillac style connector (either using short pigtail wires and butt connectors, or new terminals crimped on) and then using the readily available Cadillac style trailer wiring harness. Kinda defeats the whole goal of not cutting the factory harness though.

In the junkyard. Speedway Salvage, East St Louis, 22 Dec 2021. Pretty picked over before I got there.

I've had a cable operated Ox in the rear D44 since 2006. It's always worked great. I routed the cable carefully and used Adel clamps at a couple points to keep the cable in place. The clamps are loose enough on the cable to allow some movement. I did manage to somehow pinch the cable on the Rubicon Trail in 2019. That made the shifter operation a bit stiffer. I was thinking of replacing the cable, but lately I think it has loosened a little from use, so I'll probably keep running it as is. The front D44 Ox is air operated. I think I posted earlier that I replaced a Detroit Locker with the Ox. It's nice having the option now to be unlocked/locked on the trail. So far it has been flawless in operation. I like the fact that it uses a pneumatic rocker switch, so there are no electrical relays to be a potential problem. I routed the air lines carefully, as any time I've seen an air locker fail on the trail, it was most often because of a damaged line from a sloppy installation. I carry an air line repair kit I cobbled together myself, mostly containing parts I got from Mcmaster-Carr. I don't see as many Ox Lockers on the trail as ARB or factory Rubicon lockers, but everyone I talk to that has one, likes them.

You might want to confirm that the warning lights in the side panel are the same between the clusters. Seems like I have noticed differences in those panels. The differences are probably between Renix years and HO years, but might still check to be sure.

There is another way. I switched out my original 91 cluster for a 120mph police cluster. I wanted to maintain the correct odometer reading right down to the tenth. What I did was disassemble a spare speedometer to get a small shaft with an attached gear out. This shaft is what drives the odometer. Then I disassembled the speedometer I was going to use, just enough to separate the driving gear from the driven gear of the odometer. I clamped the shaft and attached gear in my corded drill. I sat the speedometer on a folded towel. I adjusted the trigger of the drill so it turned at a fairly slow rate of speed. Then I laid it on a folded towel and adjusted the level so the gear in the drill engaged the gear on the speedometer. Then I turned the drill on and locked the trigger down with the trigger lock. I watched it for a few minutes to get an idea of the rate it was moving the speedo. Then I simply checked it every 5 minutes or so until it was close, and stopped it on the exact mileage, to the tenth. I didn't take any pictures of the process. But I might still have that shaft and gear in my box of gauge stuff. It probably sounds janky, but worked like a charm.

Yep there is a vacuum operated flap as others have said. I've noticed in my XJ that if I shut off the engine and sit for about 5 minutes, the vacuum bleeds off enough to allow that door to either open or close, whichever way it is spring loaded. I clearly hear it.

Hmmm I have a spare bumper

The problem is the headlight buckets stick out the back quite a bit. The fender mounting points do not sit flush against the wall. I'm not going to mod the parts, I might need to bolt them on someday!