Posts

3791

Joined

Last visited
87Warrior's Achievements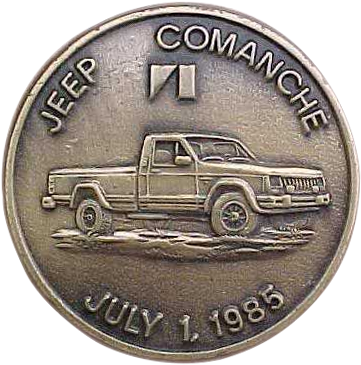 MJ Maniac (8/10)
I'd like to buy the plastic black wheel "hub" caps. Thanks!

If you are willing to ship the caps I'll gladly reimburse you for shipping and you time. Thanks for the consideration

This is the dealer emblem that used to be on the tailgate of my 86. I suspect this was the original selling dealership in Des Moines, IA: Since that tailgate has rusted in 1/2, here is the dealer decal on the replacement tailgate:

Thank you for the sensor! I know my '86 is going to appreciate it.

Moog coils arrived quickly and in good shape. Thanks for an easy transaction!

I have a Duralast (autozone brand) AGM in my TJ. The battery is now 4 years old and the Jeep sits way more than it gets driven. It will sometime go 2 months without being started or with a maintainer on it. Just this week was the first time I experienced a slow start with the battery.

I am having a hard time locating that product. Is it a Canada only thing? Do you happen to have a link?

I have a set still attached to a 1986 D30 in the yard. I'll take $FreeFiddy + shipping. Let me know if you are interested.

I didn't want to attack the armrests with the stiff nylon brush I had for fear of tear/scratching them up. I like the toothbrush a bamboo bristle brush ideas and will also source some cleaner with more effectiveness than Dawn dish soap. It looks like there are a lot of vinyl cleaners and conditioners geared towards the boating world that might work.

I dug to the back of my shed and turned up these gray MJ buckets. I have been saving them for a project truck, but could be persuaded to sell/trade for a nice bench. The seats are disgustingly dirty at the moment, but if you are interested I will pull them out and clean them up. The indentions on the foam were caused by a header panel sitting on the seats with 3 sets of carpet on top of that. I do not see any rodent damage to the fabric. Located in the middle of Kansas along I70.

I am trying to save some nasty interior parts from a MJ and started on the armrests today. I started cleaning up these hockey stick armrests with hot water, Dawn dish soap and a sponge. Even after scrubbing for a few hours, the grime in the texture is not coming clean (ignore the rodent chew marks)... What methods have you successfully used to clean out these textured interior parts? I would like to avoid the plastic/fabric dye method. I used that on my 86 several years ago and the paint has rubbed off on the armrests.

Looking good! And yes, that is a Dana 44 rear axle. Nice find!

I've had very good results from Yukon gear sets.

That sounds about right and close enough for me. Consider one of them sold, I'll let another member in need get the second PM payment instructions.