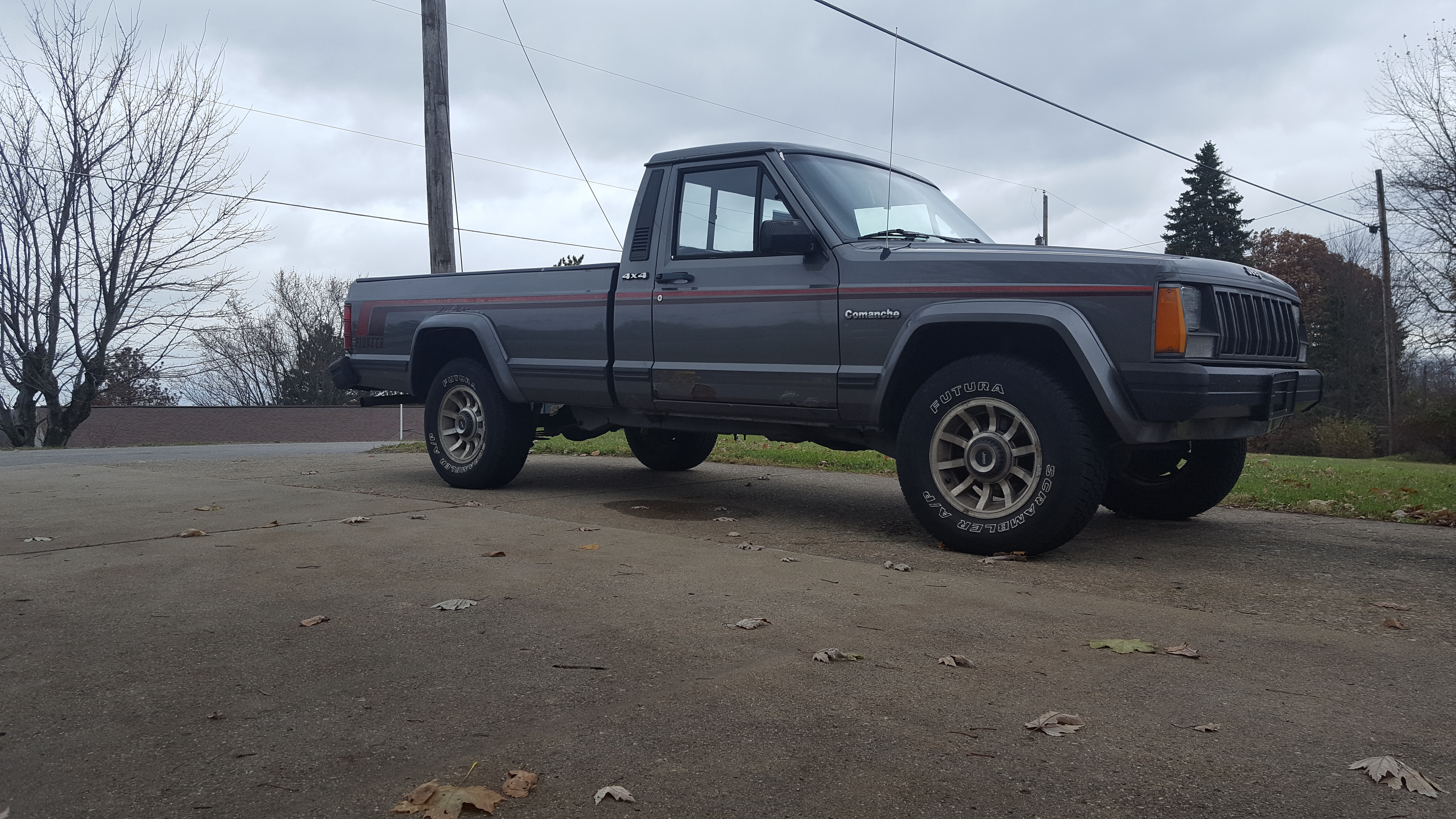 Content Count

52

Joined

Last visited

Days Won

1
DDJeep89 replied to Jeepcom23's topic in The Pub

My new German Shepherd pup Koda. We were on a Jeep ride. She loves riding in the TJ with the top down.

I live real close to Pittsburgh. Alice's Restaurant is definitely a staple at Thanksgiving in Pittsburgh. Gotta love Arlo Guthrie!

No mashed potatoes on Thanksgiving, that's a sin! Like you we alternate with my family and my wife's family every year. My only complaint with my wife's family is they do dinner, my family does lunch time. Eating dinner with the in-laws means no leftover turkey sandwiches and beer around 4pm when football is on. I have a pretty large family so we do 2 turkeys. One roasted and one deep fried. I've never had stuffing with potatoes in it, sounds pretty good. Pie is real big in our family. We have Pecan (my favorite), Cherry, Apple, and Pumpkin. Damn now I'm hungry.

DDJeep89 replied to amsuco's topic in The Pub

I'd buy a pullover hooded sweatshirt.

DDJeep89 replied to fiatslug87's topic in The Pub

We usually carve pumpkins the night before Halloween and they hold up for at least a few days. This year, the minute we finished the pumpkin they just started turning into mush. The one on the far right my 9 year old carved. It's supposed to be some Minecraft character. I don't get the fascination with those Minecraft games. It's mind numbing to watch.

I 100% agree. I'm just removing the old stuff. I think there are some things that are better of being done by a trained professional and I think window tinting is one of them. Every place I called wanted at least an extra $125-$175 if they had to remove the old stuff. I figured I'd save myself a little cash and it's easy to do just time consuming.

Thanks. The only thing it needs is the window tint redone. It's pretty much purple. I started removing it last night and what a pain in the rear end. I'm using a hand held steamer. It works real well but very slow and so far I've done the passenger side windows which took an hour and a half.

I had told a buddy of mine I was looking for one. He has a 99' XJ and had a 95' that he got rid of a few years ago so he new what to look for. Turned out his neighbor down the street decided to sell this one. He told me if I didn't buy it, he was going to buy it. She was going to list it on Craigslist but I told my buddy to have her hold off until I could come down to check it out.

Thanks! I'm real happy with it. My wife likes it too. She says its more comfortable than her Subaru Crosstrek.

It was called Gloss Smoke Grey.

I used Krylon Fusion. I had used it once before in black for the flares on my TJ and they turned out really nice.

Well, It did take me as long as I'd thought to find what I was looking for. I found this beauty in Lexington KY. I bought it off a woman in her mid 70's. She took amazing care of this Cherokee. It has a little over 114,000 on it and has ZERO rust. I even pulled the carpet up to check for rust on the floor pans. She got a little nervous when I was doing it and said "I hope you know what your doing?". She bought it brand new and the majority of the miles where put on up until 2003 when she retired. She had every service record right down to oil changes. She was a single woman and said she was the only one to ever drive it. I don't think the rear seats have even been sat in. I picked it up for $3,700.00. She decided to get rid of it because of back issues and it was getting difficult to get in and out of and she wanted a small car. The trim and flares where faded pretty bad so I repainted them this weekend. It's pretty close to the grey factory color. I'm not sure if I'll leave it or take it to get the grey repainted professionally, but good enough for now. Thanks to everyone for the advice! I ended up renting a car and driving the XJ back to PA in one day. It will be my daily driver for now. This weekend I'm going to fluid film the under carriage to keep the winter road salt at bay if I decide to drive it in the winter.

If I find the right one I could spend between 5-8 grand. Since my original post I have looked at some shipping options. I'm thinking if I'm patient enough I'll be able to find one within driving distance. I think I'd probably be willing to drive up to 5-6 hrs.

Jeep Driver- I never thought about a professional hunter. Funds are not unlimited but I'm prepared to spend money if the right deal comes along.