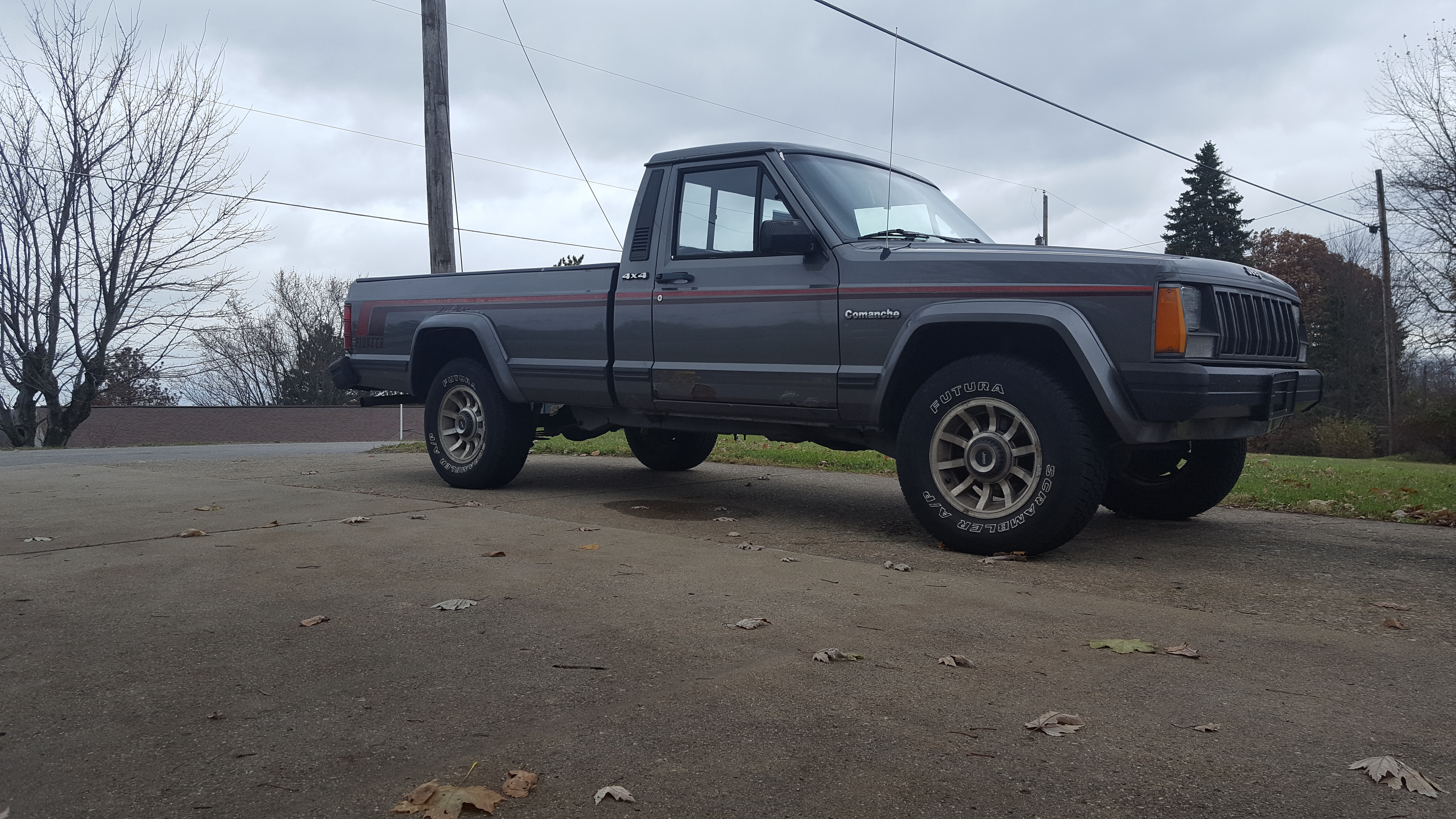 Content count

18

Joined

Last visited
These are still available online at Walmart. I bought one about 4 months ago. This thing fits awesome like it was meant to be there.

DDJeep89 replied to cruiser54's topic in The Pub

Damn. I wish I would have taken a picture of the huge black snake 🐍 that met me when I opened the man door to my shop over the weekend. Scared the crap out of me. Slammed the door shut then realized what kind of snake it was and opened the door again and it was gone.

GrayWolf, Are these seat mounts available yet? I picked up my seats a few months ago. I'm ready to install them. I'd like to use these!

I'd buy either diy or pre made.

Cool. I will try it today when I get home. Thanks for the tip.

They look good. I wish I could get away with carpet ones, but they would be ruined in one winter.

I put down some old smaller jeep rubber mats on top of them with Velcro so I wouldn't be slick and to be a little more comfortable on the feet . I also thought about putting the rubber mats on with epoxy or just spraying them with bedliner when I do the bed of my truck this spring.

So I made my own molded floor mats. I think they turned out pretty good. I took a floor mat that sits under your chair to protect the carpet and make rolling around easy. I had an extra one in my office it measured 36"x48" and was black in color. I took some measurements so the floor mats would come up on all sides a few inches. I used a heat gun to soften the plastic and slowly pushed and shaped the plastic to the shape of my floors. There were a few spots where I couldn't get the floor mat to the contour of the floor and had to make a relief cut which after the mats had cooled I ground the nubs off so I could epoxy the sections that had the relief cuts. I also threw some old Jeep rubber floor mats on top for some extra traction and comfort. This took me about an hour and cost nothing but the epoxy. I did check to see how much the floor mat cost it was about $40.00.

Ya it's a little too cold out at the moment. Thanks for the idea. I will definitely try that.

So I was cleaning the truck today and found water on the right side of the globe box. Has anyone run into this? Any ideas where it would be coming from?

That's a pretty cool story!

DDJeep89 replied to Pete M's topic in The Pub

I didn't see this one listed Pabst Boys Roadhouse They are hilarious! They do mostly XJ how to videos.

Hey, that's not a bad idea!

My truck since owning it has spent more time in the driveway getting it road worthy so I haven't really figured out it's personality yet. It will come to me I'm sure. I like the stories behind the names. Good stuff!

So I recently purchased a 89 pioneer and my dad asked what name I gave it. I've been thinking about it for a little while and still hasn't hit me yet. Of course it has to be original so it might take me awhile. All vehicles have their own personalities I guess. I was wondering, what name did you pick?Or maybe you think it's goofy to name your truck?