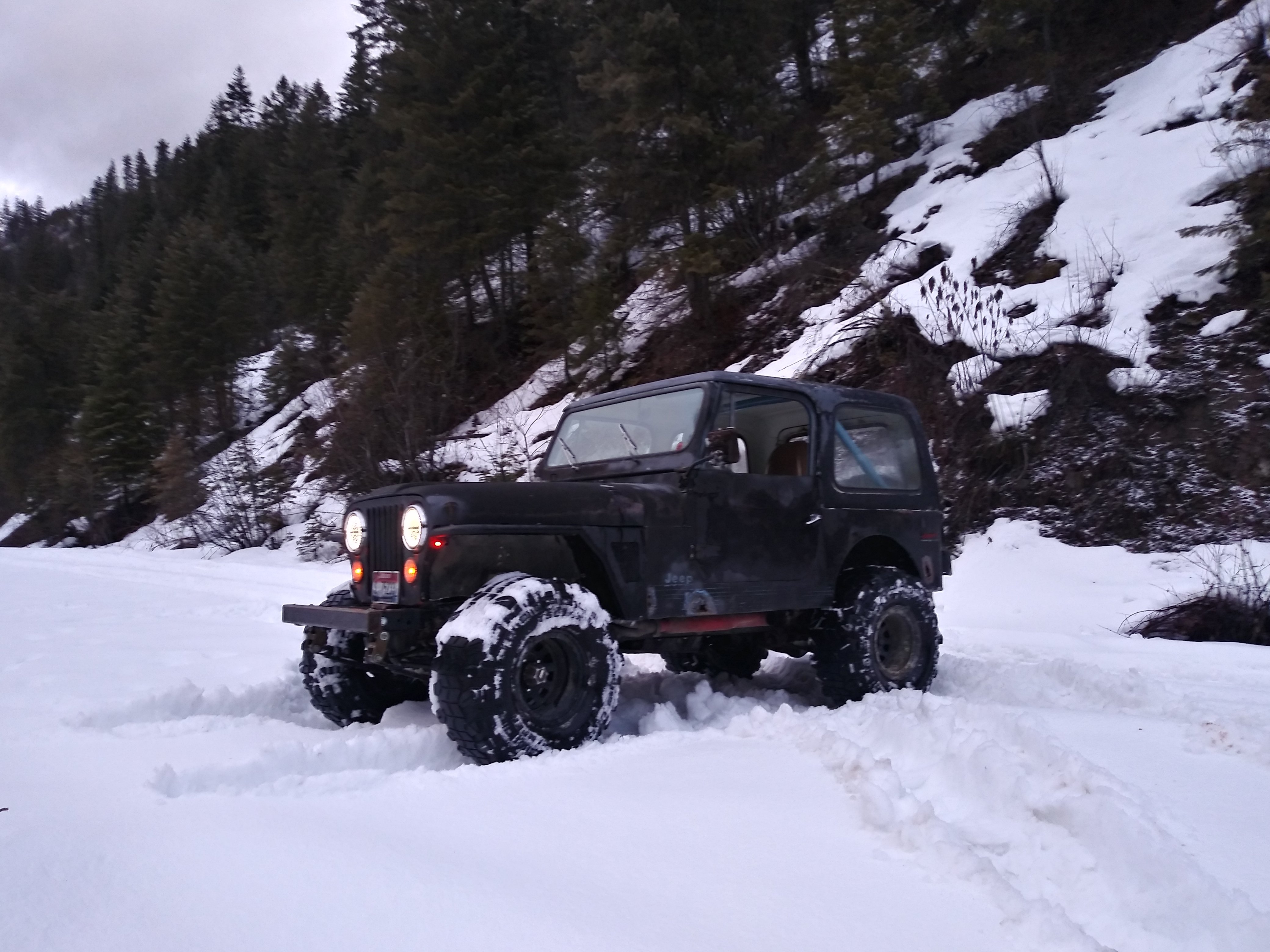 Content Count

26

Joined

Last visited
Not much new as of late. Have been getting some firewood. Lots of blow downs from a storm in January.

Any opinions on a lunchbox locker for the Chrysler rear in the mj since I do haul a bit of weight from time to time? Don't really care to start snapping axle shafts but would like a locker for in the snow.

Have a pic of starting the control arm swap. Got it done but haven't taken pics. It steers and rides much better. Picked up a ZJ for $150.00 as a parts rig. Though I don't need any parts off it. Seemed too cheap to pass up as I'm sure one of my buddy's will get it from me and just wheel it as is. Sawzall and 33s . 😆 Got the silver WJ for free from my sister. Threw a 2 inch pod lift on it so I could put some tires on it that I already had laying around. Gave it to the wifes friend that needed a commuter. She has been driving the wheels off it with good luck. All it

I did get these today in the mail. Hopefully I can get them installed this weekend. They were cheap so I'm not expecting a ton. But for 2 bills delivered I thought its worth a shot. On a side note I think I am picking up some geared and locked axles for my cj7 this weekend also. Kind of stoked about that.

Not sure why, but I added a snorkel. I did manage to get most of my firewood in and its still clicking along. I think lockers are next on the list. Any opinions on a lunchbox in the front for street driving?

I like that I can get in tighter spaces with it then I can in my full-size.

I gave it a quick Rustoleum spray bomb. Did it at night with just a beer box for masking. I think it helped even for a quick makeover. Eventually it will get grey raptorliner. Cut 4 loads of wood in 4 days. Guess it doesn't matter how it looks if it works. I did manage to break a motor mount skidding logs. Now I'm waiting on ups for some cheap replacements for now. I plan on buying some bombproof ones when I swap the motor. That will be spring hopefully. Old mounts lasted over 30 years. If I can get the winter out of some cheap ones I will be happy.

Got the winch installed. Straightened the rear quarter a bit more. I remember why I am not a body man. Went and cut a load of firewood.

I realize it seems overkill. I plan on mounting my high-lift, chainsaw, axe, and a shovel to it. So I figured it needs to be sturdy. I had a couple 50 inch light bars already. I had ordered cab mounts but was sent ones for a curved light. So then I ordered a curved light and was sent another straight one. Got tired of getting wrong stuff so made due with what was on hand. Ha.

I did throw together a headache rack. Not sure

That is a great idea. Thanks can't believe I didn't look at that.

I used the factory bumper brackets for the rear. I hope they are strong enough. I don't plan on pulling anything heavier than my Rhino or a couple quads so it should be fine. Had to get creative to pull the dent below the taillight. Used winch on wifes jeep to pull it out. The knock off bumper kit I purchased took a little extra tweaking. One part must have shifted when getting cut out. Not a huge deal but it did take a little work to make fit. Still worth it in my opinion for under $150. Guess I need to order a winch now.

Its a 51. It has a 350/th350 and a nova subframe previous owner started. I think I'm starting over. Picked up an s10 chassis and have a 5.3/4l60 for it. It has a couple projects ahead of it at the moment.

Started on some bumpers. Ran out of welding wire so had to call it quits till next weekend.

Well I put some bfg ko2s on it that I had. Drives pretty decent. Springs are a little soft for hauling much. I guess that means I just have to make more trips. It rides pretty smooth. Don't have a lot of clearance with the factory flares. I ended up replacing the fuel tank and pump. Its much happier now.