Posts

221

Joined

Last visited
EUREKA's Achievements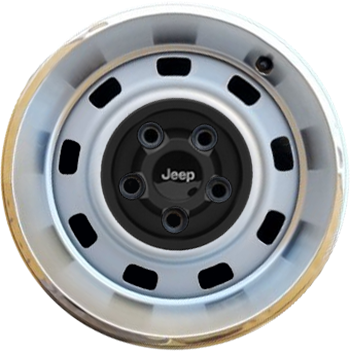 Comanche Aficionado (4/10)
Thanks! I will probably go this route when I get back to my 91 MJ. I deleted the floor shifter and plan to convert it to column shift.

I see the Mopar ones are $21.66 new vs Bosch at $8.69. Do you think Mopar are better? I believe Cruiser said somewhere that Bosch were the best replacement relays. I know I'm being a bit tedious replacing parts that are not bad, and not part of regualr maintenance.

That's good one. Btw, I'm well on my way to completing all of your renix tips. Thank you for all of your contributions to the community! What about the factory 5 terminal relays, would replacing them with new Bosch relays improve reliability? I'm sure the contacts inside the original relays must have built some carbon on the contacts of the springs are tired by now.

I tried that. Tired rotating both 180 and 360.

No more BS C101 or sensor ground splices. Found what looked like duct tape on my fuel injector ground splice. Also found that some well meaning person at one time had eliminated the factory sensor ground splices using a big butt connector. Got it all solders and heat shrunk now.

Completed Cruiser's tips 3 (Connector and relay/receptacle refreshing ) and 4 (Coil/ICM contacts) yesterday. Looks like Ill be doing tips 2 - C101 connector elimination and 6 – Sensor ground upgrade today.

When you say, what exactly is it that you are hooking up to the f-250? Are you jump starting the jeep? How are you detecting that the new pump runs, sound? With the fuel line off of the rail, the pump does not pump fuel when on?

ghetdjc320 is making the switch cover filters and HVAC panels,

I love the room since this is my work truck. Departure angle is frustrating though. I damn near ripped my bumper off getting to a worksite a while back.

I grew up on riding on Mexican saddle blankets.

I'm not sure how to rotate the images. They look correct on my phone, desktop, paint 3D, photo editor, and imagur. I plan to do the Throttle body to MAP hose upgrade (tip 31), C101 connector elimination, and Sensor ground upgrade (tip #6) very soon. I have all the parts ready to go. The 4 hole injector upgrade and Big 7 made noticeable differences, as did the TPS adjustment. They were nothing compared to the difference of the ECU upgrade! That one has made a tremendous difference. In fact, before the ECU upgrade I was not convinced I would ever be happy with a renix jeep. My goals for the future: Headlight harness installation Trans plug connector refreshing (tip 10) (did the one under the dash) Improving blower motor performance (tip 28) Improving the instrument panel ground (tip 18) Full gauge cluster Renix Distributor indexing (tip 13) 97+ wiper arms Wiper bushings Replace antenna with more rugged one Service differentials Oil Filler cap Mod (tip 26) Get fog lights working (I don't understand why they are there but not wired) Add cargo light Rear defrost New windshield Paint job Line-x bed (I have used herculiner and it's not for me) Lumber rack Maybe a modest lift Fabricate protection / address departure angle

Purchased in 2018. Has been my daily driver for about 3 years after selling my ZJ. This has been my first Renix after owning 2 ZJ's and 3 XJ's. I no longer drive off-road as a hobby but I still use 4WD to access work/fishing locations. Only a few days after returning from a long trip to purchase my 91 MJ, this 1988 MJ came up on my local Craigslist for sale. I had to go take a look. Ended up trading my 84 Yota straight over for the 88 MJ. Here is what I've done to her so far; - Throttle body and IAC cleaning (I always do it right away when I buy a new 4.0 jeep) - New Renix vacuum harnesses (Cruiser's tip #22) - Replaced and set TPS (Cruiser's tip #8) - MAP sensor - O2 sensor - Cap/rotor - Plugs and wires (8mm) - 89 ECU upgrade / ECU connector refreshing (Cruiser's tip #9) - Big 7 wire upgrade (Jeep Cables) / Ground refreshing (Cruiser's tip #1) - Improved fuel pump ground (Cruiser's tip #29) - Remanufactured 4 Port Fuel Injectors (k suspension) - Fuel PSI regulator - Replaced Headlight Switch - Connector and relay/receptacle refreshing (tip #3) - LED headlight upgrade - LED turn signal/parking/marker lights - LED B-pillar/added under dash courtesy/gauge - Added Sentinel Headlamp feature (Cruiser's tip #30) - Ignition switch (out of necessity) - Power Steering pump (out of necessity) - Shocks and steering dampener (KYB Gas Adjust) - Tie-rod ends/Draglink - Control arm bushings - Ball joints - Brake stuff (of course but no significant upgrades yet) - Had trans serviced by transmission shop - Converted to open cooling system (Cruiser's tips #33&34) (after blowing a hose in the middle of nowhere) - Luckily it blew near the end of the hose and I was able to cut it short and use it to get home) - Had the stereo shop install b-pillar/door speakers/deck - Had factory bench seat reupholstered (bench was better for my dog, unfortunately he passed away from old age) - Side and rear window tint (front has crack and can't be tinted) - Repaired loose steering column (had a shop do it because I was busy with work) - Cat back exhaust (Shop) - Replace broken exhaust bolts, 4 freeze plugs, Manifold gasket (Shop)

Yep, I'm 15 min. South of Arcata. Be sure to check out fern canyon when you visit. There are a lot of guys who know these systems very well here so come back if you get stuck.

I suspected you guys might say that. Thank you.