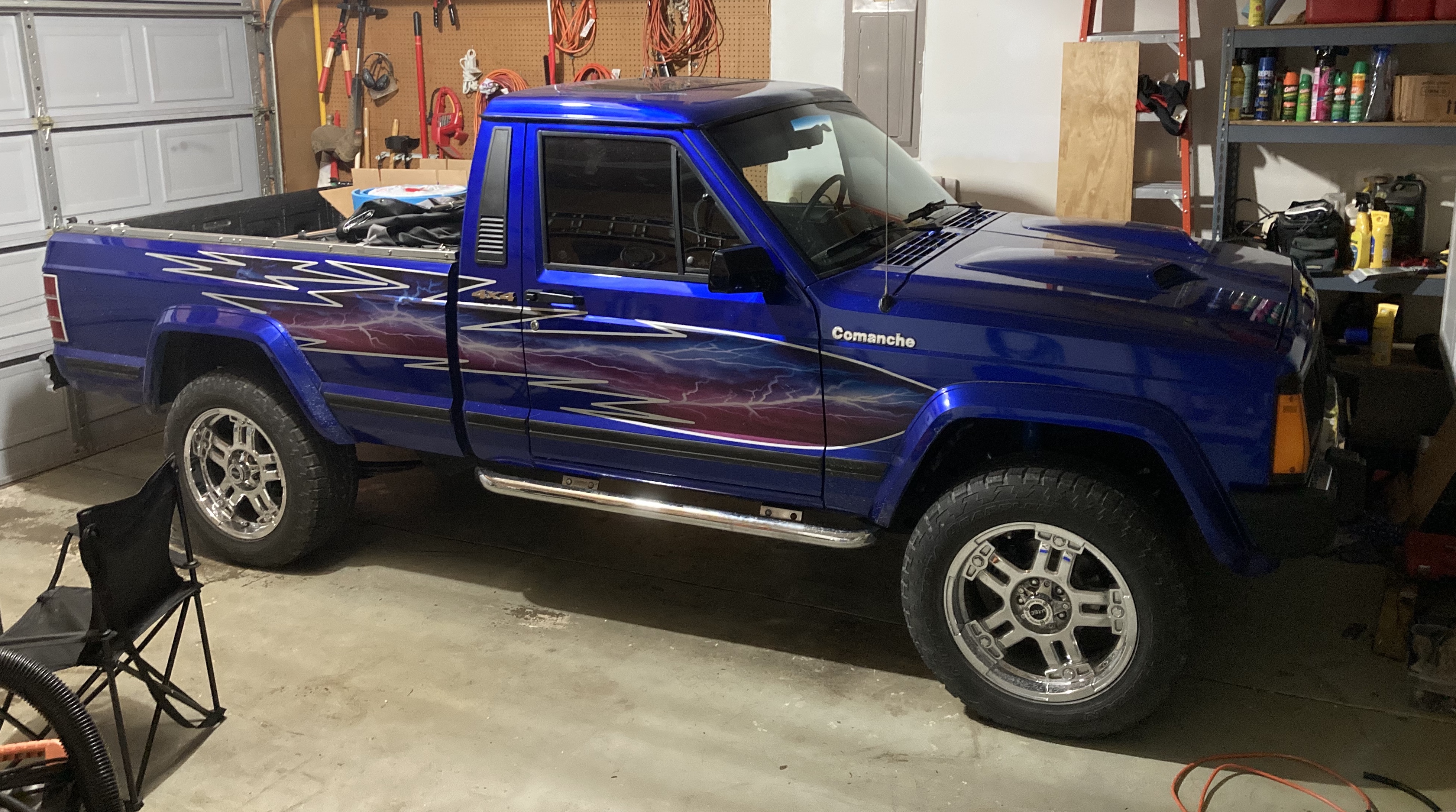 Posts

23

Joined

Last visited
Recent Profile Visitors
The recent visitors block is disabled and is not being shown to other users.
Romain's Achievements

Jeeper (1/10)
I did notice that. The "dummy" cluster was sitting in the drivers seat too. LOL The underside it a little rusty, but there is some good mechanical salvage left for the '87-'88 RENIX pulling. I've thought about swapping out the bench for bucket seats (after recovering them), but the bench has grown on me, plus I like being able to have a third person in the cab.

It's fixed. The shift cam lever was in the wrong position. It was set to push up and over the top where it should have been set to push down and under (4 Wheel Low would be straight down). I took off the shift cam lever and flipped it over (90º) so it shifts down and everything is swimming now...... Commendations to the TheGearShop1945 for the work as the case runs great (after the 90º flip). It was my inexperience with the shift lever to not understand that trying to go into 4WD, the link was pushing the wrong way.... I went to the salvage yard to see a similar one and it was immediately obvious I was pushing in a no-go direction. BTW, LKQPickYourPart in Mt Airy, MD has a NP231 AMC transfer case in a 1988 Jeep Cherokee if somebody is in the market for one. Thanks to JMO413 , jdog, and cruiser54 for the tips. Cruiser - I've done half your ~33 items, so far. Romain

Should I be able to move the linkage by hand? How much resistance should it have? Romain

OK, I'm nearing the end of my mechanical assurance on my MJ. One of the last things on the list was to have the transfer case rebuilt. I took it out and it was rebuilt by "TheGearShop1945" in Baltimore. I've put it back in and hooked up all the linkages. So the problem is it won't shift at all out of 2H. It feels like the linkage is connected to a fixed spot rather than that elaborate dog-leg shifting system. I'm in the early stages of trying to figure out how the heck to begin trouble-shooting it. Any ideas? For those who have followed my MJ, I've removed the lightning bolts and put on the '86 orange stripes. It looks very nice. Thanks ALL

I'll love to see her restored.

Finally I got the fuel gauge working. No matter what I tried, the gauge in the cluster would just not work. I think I somehow ended up damaging/destroying two Renix fuel gauges and the HO gauge is backwards. Instead, I soled the problem by installing a CJ fuel gauge in the area below and left where I believe the Cherokee rear window wiper and defroster switches would go and putting the AMC logo in the fuel gauge spot. Interesting and it works. I'm done. I'm never opening the cluster again...

That's how I take it. Since it's not a rebuild and just a seal replacement, that's what it seemed to be for. Romain

My MJ was wrapped up today. We're just waiting for the gasket sealant to dry overnight, fill with oil and test for leaks in the morning. I met George (the Guru) today when they were closing up and torquing everything down. I asked about it all and the following is from my understanding and I make no guarantee as to it's accuracy as I didn't see it all go together. First, he did not use the Fel-Pro seal I provided. Instead, he used an Apex seal that has a bigger lip and is thicker and more durable (so I hear). The thicker Apex seal makes a tighter seal for the top. Second, gasket maker went in the rear bearing cap under the lower portion of the Apex seal. Third, the carbon paper went between the rear bearing cap and the bearing. This better secures the rear bearing to make a more snug seal on the crank shaft and thus out through to the seal. An ever so slightly wobbling shaft wears out the seal and allows oil to leak through. The carbon paper is thin, just enough to make up for wear from the miles to correct the spacing wear in there. The carbon is also efficient in resistance to heat and oil. Finally, he put gasket maker at the union of the seal and torqued down the rear bearing cap and were finishing closing her up when I arrived. George guaranteed there will be no leaks as he's done thousands of them. After spending four months laying on the driveway in the coldest months of the year looking up from there, it was nice to see her on the lift. I will try to update this thread when it starts leaking again... hopefully about 20 years from now. -Romain

I took the carbon paper over today. Waiting...

I've had my MJ for four months and I've done all kinds of repairs on parts that did and might not have needed replacing. I don't know the history of my beauty and I want her to last for ever and ever. My plan is to replace everything that turns, moves, rots, or rolls. I've done all the tie rods, ball joints, shocks, hubs, wheel bearings, U Joints, all new brake system including the lines, all the fluids, every component connected to the serpentine belt (it was the alternator with the squeak to my surprise), and more, and more. I've spent over $4,000 with Rock Auto in the past four months and done all my own labor. I have a slow ongoing saga about the dummy to full cluster swap and I'm nearing the end of that adventure that started with a broken speedometer cable. In my quest to change all this, of course I replaced the Rear Main Engine Seal. OK, it was leaking, and I thought I did a good job, but it began to leak and leak more and faster for every minute she ran. Yes, I did understand what the little shoe horn was for. I went back into the articles and then noticed comments like... If you've never done it before, buy two seals, and so forth. I just can't bring myself to drop the oil pan again and try to figure out what I did wrong and roll that dice again. I looked for a local Jeep specialist, and found nothing to my surprise. We take my wife's Beetle to a private shop that only services all models and years of and only VWs. I can't believe I didn't find such a thing for the Jeep. There is a local shop that does high-end custom builds and has a top notch reputation. The Pros. Not Cheap! With the new seal in hand, I decided to take her there. They haven't ever done a 4.0L seal, and being who they are, they know everyone in the business, including THE Local Guru, now retired and in his mid-70's. They told me this story of this Guru having his own shop years ago with 10 Jeeps on lifts at the same time and he was working on them all in an assembly line fashion - Just Him - working on them all at the same time. After the MJ has been sitting there for a couple days and them doing their research, they talk to the Guru. I then get a call and I'm told... "OK, the Guru is going to come over and take care of this and show us all how to do it. We're all very interested to see it. What we need from you is a piece of carbon paper. That's the trick and it will never leak again". I'm like "Carbon Paper". They're like, yes, "Carbon Paper". Well, nobody sells carbon paper so I ordered it on Amazon and hope it comes tomorrow. When it does, I'll rush it over and have them call the Guru. I just hope I get to see what the Guru does with the carbon paper. Now I'm wondering about the articles I've read where somebody claims to have replaced 25 rear main seals and wonder how many of them were on the same engine because they didn't use carbon paper. Bewildered and Curious about Carbon Paper in Maryland Romain

Gotcha. No HO gauge for me. That's going back in that cluster I just can't use at all. Thanks for helping me understand that.

Next round. I tried running a bypass wire on my spare rear wiring sheet (whatever that's called and the connector for pin 17 came off. I'm going to have to do a more professional job with a disconnect and solder to the screw and the pin 17 input. I ran the gauge directly to pins 10 (ground), 17 (ohms), and 18 (+12). OK, given the OHMs reading is 50 and my Renix gauge went to 1/4 tank. I have a gauge that looks identical from a '91-'96 that I likewise wired up and it went to FULL. It's so confusing - I'm starting to wonder much much fuel I actually do have. (I'm sure the 50 OHM/over half a tank is correct). I'll try a more carefully constructed connector for pin 17 in the next couple days and report back. She's going in tomorrow for a rear main seal that I replaced and now leaks more. Time for a professional for that.

I tried a new gauge and the same thing. I put the dummy gauge back in and the fuel level stayed at a quarter tank (no movement at all) while I still have over half a tank. What is this notion of a floating ground and how to I identify that?

I have been presented with another electrical opportunity. While working to get the tachometer working (thanks again), the fuel gauge that was working is now NOT. The Fuel Gauge reads empty. I have verified that the fuel sender is working - at the sender, it reads ~50 OHMs and I have over half a tank, so that seems right. I measured the resistance on C203, pin 10 ground and pin 17 ohm from the fuel sender and got the same ~50 OHMs. When I plug up C203 into the cluster, the Fuel Gauge reads zero. Measuring the pins on the rear of the gauge, between ground and +12, it reads 12 volts. Measuring between ground and the sender screw (connected to pin 17), I get nothing. From what I read this happens when the resistance pin is grounded, but I don't see anywhere that could be happening. All my other gauges are working. This all started with my speedometer cable broke and I thought, I'd love to upgrade my cluster, but it's been nothing but one challenge after another. The circuits do pass through a little circuit board in the cluster and I have an extra of them and have tried both. I also have a spare rear film with the copper contacts (wiring) and have tried both of them. I have ensured the connectors are clean and making a good contact. Please help Obi-Wan-Comanche-Club, you're my only hope.