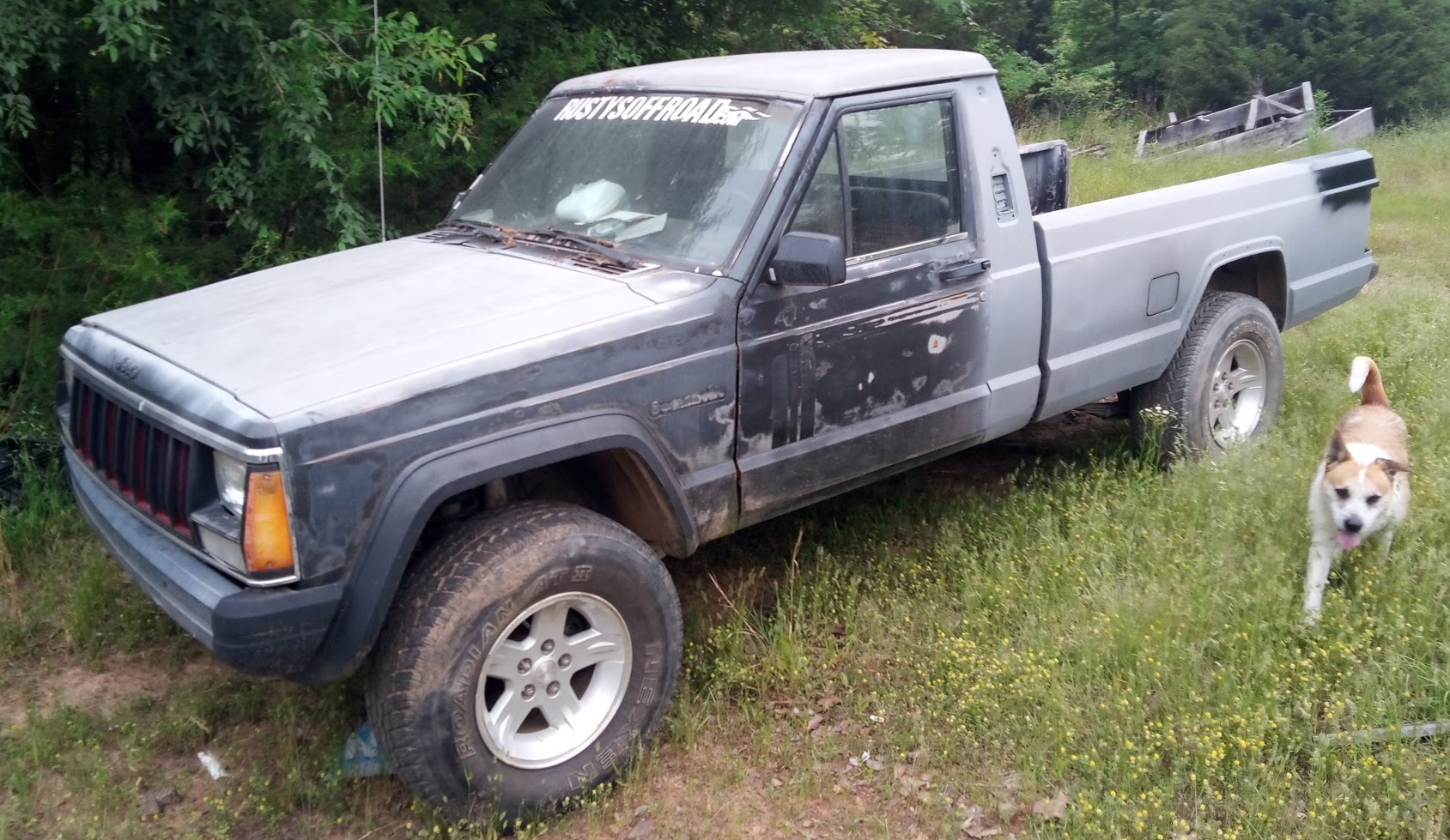 Posts

15

Joined

Last visited
Profile Information
Location
Interests

Jeeps, Fishing, Ozark Mountains, Pew Pew,
Caish's Achievements

Jeeper (1/10)
THings are mass produced, I've swapped out lots of carriers, and gearsets just using the same shims it had... Not a black art or voodoo. The crush sleeve can be an issue if it uses one, HP D30 doesn't LP d30 does. Glad I got a couple LSD D44 carriers in the shop. Well one is a clutch type LSD, the other is a geared Torgusen LSD. Was thinking about putting the Torgusen on my JK, just have to drill out the ring gear holes.

Some XJ's with tow package had 3.73's also got a D44 rear axle, as did the Metric ton comanche. Yep ZJ/WJ won't work in a XJ/MJ low pinion vs high pinion. Might as well swap to a 4.11 or was it 4.10's from a four cylinder.

The early D35's with bolt in axles are not as weak as the later C clip axles. I've ran 31" tires, wheeled them etc, never broke an axle. 87 XJ. I've seen many had issues, but not me, and was always C-Clip axles....

TPS mentioned... Need to have a TCM also unless you plan on making it switch selectable.

Got a Four Oh replace the OEM motor mount blocks in the block. I've broke mine out wheeling before. Engine fell over to one side and meant a long ride on the end of a strap out of the woods..... I used 3/8" grade 8 bolts.... IF you ever break them off its a real PITA to drill the old ones out.

I just cut the metal from an XJ body, 88 model to be exact. Right in front of the taillight hoping to keep some of the slight arc the body has there. Matching the actual curve of the corner is the harder part... More pictures as I get further along.....

Nice to meet you Cruiser, used your pages a bit over the years, I drove an 87 XJ for nearly 10 years. Renix can be fun to troubleshoot. But to be honest short of CPS it was reliable to a fault. CPS.. mine would get polarized, have to unplug it, plug it back in and would restart. Happen once every 6 to 9 months. Should have seen the Wifes face when I did it the first time, she was like it will start in 30 minutes. I laughed, and she wanted to know what i did, I guess it left her waiting a time to two. Its not a certainty yet, one of the biggest issues is PCM/SKIM the chip key has been the bane of many WJ owners, had it deleted on my other WJ #BastardHeep, then BCM alarm discovered it it didn't have a matching vin in the PCM, and would not shut off.... $250 later to get reflashed a third time. Very true part of why the later XJ's feel so much more cramped than the early years, Then add in they lost an inch of both sides from those fancy door panels. The 2.5L MJ/XJ's use a completely different radiator than the 4.0, its actually bigger than the 4.0 radiator. Or looks like it, like they borrowed it from a YJ. Also have to remember the 4.7 V8 is not much longer than a 2.5L so actually more room for a radiator than a 4.0 all good info. Was just tossing around the idea. Really think if I could get the PCM to play nice, would be nice to have it replace the mini-van 3.8L in the JK. I hate that engine, and the 6 speed. the AX15 and even the NV3550 have better gearing, and cjheaper to work on. The shift fork assembly on the 6 speed is nearly $500 where AX15 and others can buy individual pieces. Yea the 247 would never been kept, I have a few NP231 and NP242 cases around here. Did you know our XJ/MJ 231 cases use aluminum forks? Others had steel/cast iron forks, what I installed in my XJ 231, so it will never wear out again. the ears was worn off the aluminum one when I got it. of course seller neglected to tell me he had stuck in low range. Just the 270HP/330 torque would sure be fun in an MJ... :)

Saginaw Steering column, remember AMC was jokingly called All Makes of Cars. The Saginaw column was used in lots of GM's too, like the Full size truck, and the S10/S15 mid eighties A Body, ala Monte Carlo, Pontac, Firebird, Camaro. etc. Even used the same one in Wrangler. One difference is shaft connects column to the gear box. Just notice if its got a column shift or not...

Don't want a stroker, 4.0, would just go with a 258 and cam, less work. The 4.7 Ho vs 4.0 I have both in WJ's is night and day, 4.7 just requires regular oil changes and don't get them hot.... The HO has better cams, forged pistons, and I think its a forged crank if I remember right. It would be a bit tight but no more so than most other v8 swaps. As to 4.0 swap, my MJ is the throttle body injected, so its completely different critter than the REnix 4.0 If wanted to go automatic I have all the parts could drop one in it, but the four is good for now. I rebuilt one a couple months ago in a TJ, was surprised it wa as spunkty as it was. with 31x10.50's. DZIMM: Yea I know all the to well the 97-01 XJ is almost bolt in, I have a 99 parts rig out back minus the seats, and a 98k mile engine. But the WJ is a lot nicer than the XJ ever was, my wife daily drove a 99 model for 4 years. Build quality was alot better than my old 87, but also had more gremlins.

Since no one mentioned it. Mixing and matching transfer cases can be an issue. There is three different lengths of transfer case input lengths. Then add in early AW4's used a 21 spline vs 23 spine on later ones. So just a bit of advice. I've been playing with XJ's/MJ's for 15 years... So long as both came out of same donor you're golden. The OEM drive shaft if its like my sons was, its a rubber isolated shaft, Why i went with the Lincoln towncar shaft, it uses the same U-Joints too.

Anyone read of or seen where someone has swapped a WJ dash/seats into an MJ or even XJ. Later plans, day dreaming, would be interior swap, build a Grand Comanche, 4.7L HO, (265HP) V8, five speed automatic, and a 242 case. I have a WJ LIMITED parked outback, kinda rough, so make a good donor. I have no doubt the Wiring swap would be a nightmare, PCM, BCM, ABS, use the Quadra-Drive limited slip axles.

Thats a NP242 case, not a 231, shouldn't matter since you're going to have to cut a shaft anyway. I used a Lincoln shaft on my sons when we added a transfer case to it. If you can weld a little its easy, use apiece of paper wrap it around the shaft for a straight line. Use hacksaw or grinder go around the weld, knock the cap out with a hammer. Then carefully cut the shaft straight, knock the end back in, its a tight fit so even if your cut isn't perfect its going to be straight. Make sure the cups pn both ends are lined up, Weld it down and enjoy. I've done several over the years, never had a vibe issue, just smooth out weld, if its not great, with a grinder.....

With the obsolete issue of MJ tail lights. I'm working on a redneck solution. I have a half dozen junk XJ's in the field. So cut a piece of body out of one. Section right in front of the tail light on an XJ. A pair of amazon LED's I went this style so there would be visibility from the side. I plan on bringing the OEM mounting tabs out flat. Then fold a ninety and out of some more scrap, spot weld it to the cover so it will use oem mounting holes. I need to order a couple small round white LED flush mount for back up lights. I measured it at 8 7/8x10 7/8 in reality should have been 13/16 or even 3/4 but a little work with angle grinder shaving it down, gets a nice fit, matching the curve of the corner is not as easy as it sounds, there is a slight curve to the bed side.

6 years back it was a $300 woods beater, old guy used it to haul firewood. Added a 3" Rustys for the son, and fixed a few things, 2.5L 5 AX5, NP231. 300k miles. with a knock, Loose harmonic balancer. Well kids being kids, he neglected it, got it hot a few times, had coolant leaks, he just parted it in the Yard. Figured he cracked head so was ignored for a few years. Then I decided to take possession of it again. Fixed coolant looks and to my surprise wasn't cracks. Lots of little issues, leaking intake manifold, Leaking heater control valve, and leading transfer hose. It had 17" Charger steelies on it, I swapped it back to 15" a set I had from a Jeep Wrangler TJ Ravines. He also managed to break unobtanium taillights. So plans are finish body work, and a fresh coat of Black Enamel. If I can find the Original Stripes. Re-add them. 95% rust free, besides a hole under throttle pedal. I've had lots of Jeeps over the years. I drive a JK, Wife drives a WJ, my old XJ out front, Sold a couple SJ's, YJ is out back, sold a CJ7, CJ5, Oldest Son first truck was a 2wd MJ< he still has it. I need to find a tailgate too.....