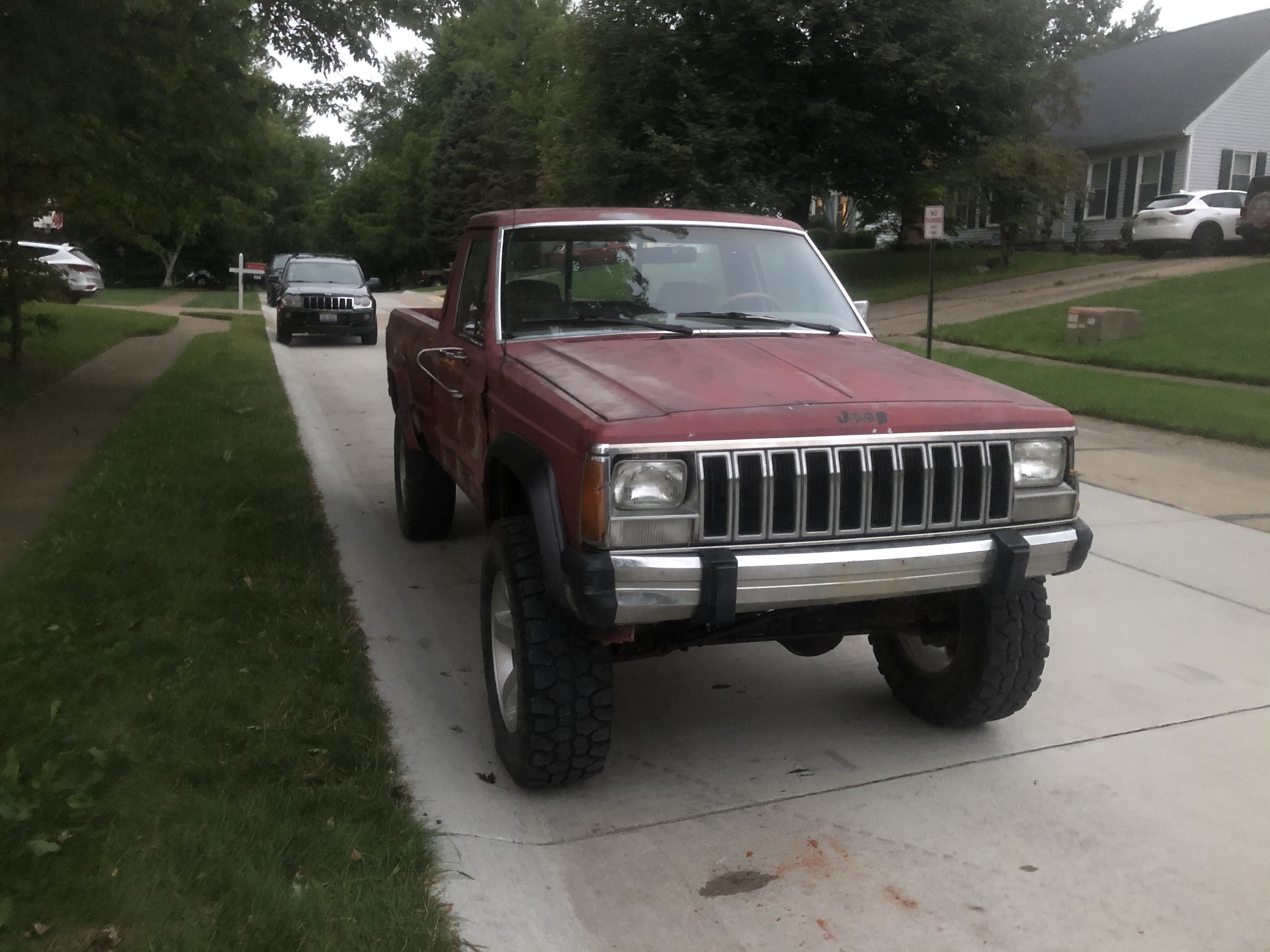 Content Count

33

Joined

Last visited
Recent Profile Visitors
The recent visitors block is disabled and is not being shown to other users.
https://www.facebook.com/marketplace/item/462130488504421/?ref=search&referral_code=marketplace_search&referral_story_type=post nice guy, I just bought the cap off him and think the truck looks good. Some surface rust but otherwise looks solid.

Bought a Leer Macho for Bravo. Older gentleman was nice and also had a 1986 Comanche for sale (will post in classifieds) that looked pretty good. The cap is just slightly too long and the truck bed light off the cab threw me off when I was positioning it. A little cockeyed for now but we'll figure it out! I know I just got it but for the right price, would be willing to let it go haha. Looking to at least cover gas and time ($250?)

Not the Comanche but... 😳

Passenger side is dented with some damage to that bumper cap also. Chrome is in good shape, no cracking, and slight surface rust on the backside. Otherwise in fair condition with both brackets, end caps, and front bumperettes(?) included, but no mounting hardware. Picked up a set without brackets and more rust for a similar price so looking to break even. Would be willing to trade for headlight bezels, antenna cable, or other trim pieces. yes, i also use my TJ as a truck 🤙

Cleaned the inside of the cab and topped off some fluids while the little one watched from his blanket. Only a couple months ago he was spending more time dreaming than awake. They grow so quick!

I had some some welding done to the frame and reinforced where the gear box bolts up. It made a huge difference in steering now that the bolt wasn't prairie dogging the rail. I picked up a set of 35" mudstars on Tj Rubicon rims a while ago and thought they might look good on Bravo now that he's a bit sturdier. Acceleration, braking, steering aren't great... but it makes me happy A lot to go before I can run these full time but I might keep them on for motivation ha!

Let me break down the title... or skip down to the pictures for the truck! Jeeps are part of our heritage. We all got into the Jeep culture for different reasons but what's ubiquitous is the utility and potential for a Jeep to defy roads and look great doing it. Growing up, I learned and became fascinated with how Jeep Willys were sold to Colombia after WW2. These Jeeps, called Yipaos ("Jeep-Ow-s") were utilized by farmers in remote areas to transport their agricultural goods - and often groups of people - to surrounding towns. These trips were often treacherous and at

I'm planning on taking both my Jeeps Traveling with a baby though, camping will be interesting P.s. I know my grille is flipped... haha

https://fortwayne.craigslist.org/bar/d/fort-wayne-1986-jeep-comanche/7319204443.html more pictures in the link!

Not available for iPhone... but I did find you could use Smart Invert as a work around: https://www.guidingtech.com/get-dark-mode-safari-ios/ (Option 2) Thanks anyway 😬👍

Thank you @scaleless! Did it slow your browser at all? I read that it might and AT&T in northern Ohio is slow enough haha

Would it be possible to change the contrast on the forum to dark mode? Or add that feature? I searched through the settings but couldn't find the option. I use a mobile browser most often and there's usually a toggle somewhere or reader view for some pages... I'm on here a lot while holding my baby when he refuses to sleep in his crib. Lights up the room though and would like to be more discrete. It's been a great way to stay awake and gives me time to research ideas. I'm fixing it up for him some day!