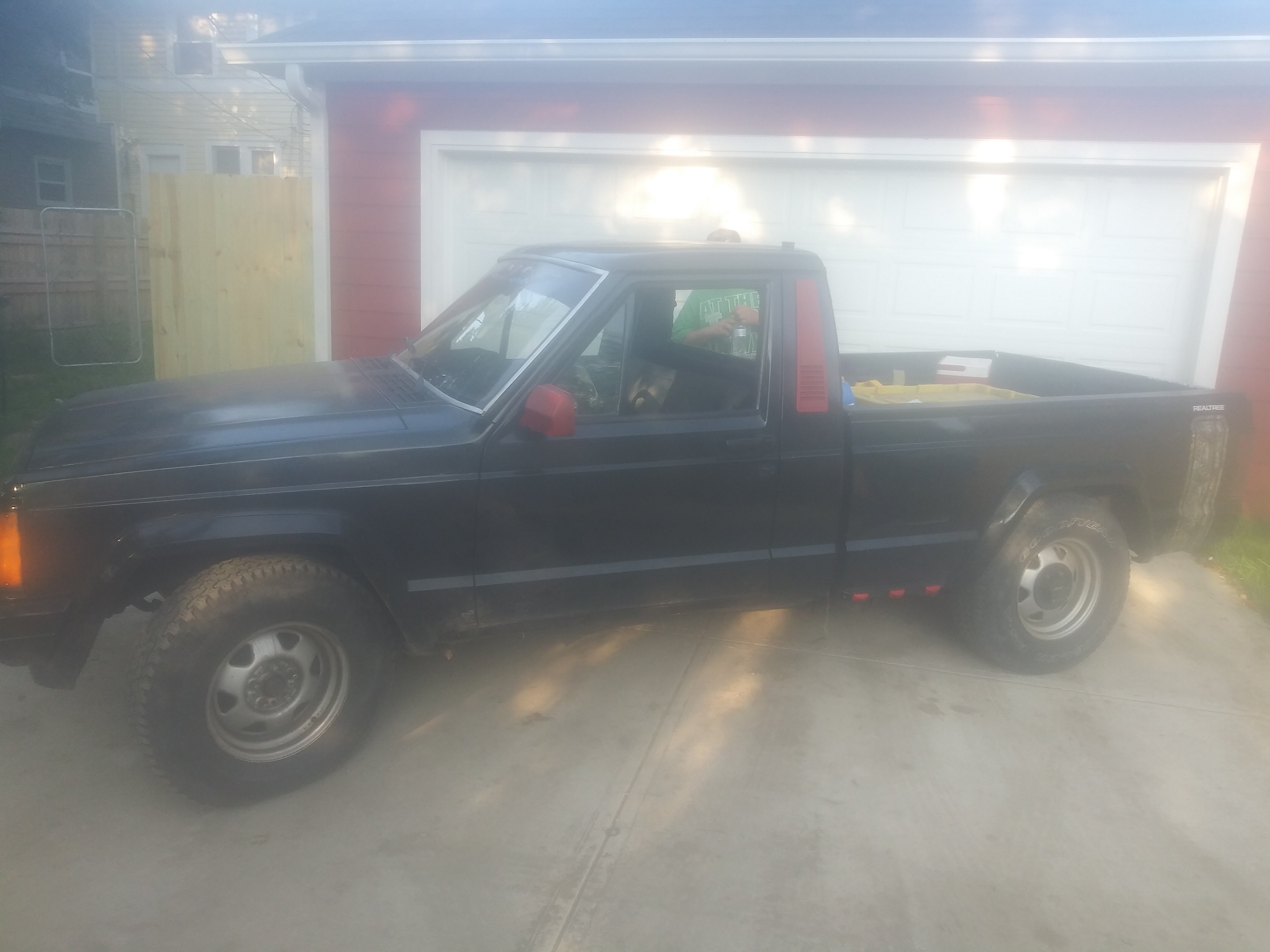 Content Count

12

Joined

Last visited
Profile Information
Gender
Location
Interests

Mountains, music, and good times
Going to get some better pics... Thanks for the suggetion though

Just to make it level. I got it already raised in the back and it didnt run. I i tended to use it for parts. But The transmission cable was loose and fixed it. Now it ru s... Not well yet but a matter of time.

I have 2 comanches. The black one.... 4.0 swb 2wd 5spd.. Runs well... New ignition system No rear window leaky radiator and rusted frame Red one with white fender....2.5 swb 2wd 4spd.... Never been started by me. Bought for parts or to swap the engine out of black one into it as it has a really nice frame. Has no floor board and no instrument cluster or seat. Missing grill as well. Ut looks nice. I love these trucks..and would love to fi d a good home for them. I am trying to sell. Both together. The. Black one runs and drives just a slow leak in coolant. The red one. I put a steering wheels some tires on it. Just what ever so i could move it around. It has tan dash and door skins. The other one is all black interior. I am asking 1800 for both.

How hard is it toraise the front in terms of time and money

My other Comanche had the rear speing swapped over axel..... I am wo dering is it ok deive like that or doea the front nees lifted or rear need dropped

I am going to get some better pictures. But do t know if i have the time to fix these two ... But am faced with a leak maybr from the top of the radiator.... Not sure.

Need to figurr out how to start with no dash board or interior....is it possible to tell?_

Looks like i have a radiator leak....

The Jeep gods have been kind to me!!!! The third MJ is in good condition but needs just a few things to be road ready. I fixed the colymn shifter link on it and POWWOW... Fired right up. Theses comanches are tricky but seems pretty basic when it co es to fixing them. It has the speing swap done too the rear.... Not sure wheter to swap it back or lift the front.... Also need to work on the steeri g column. I thinkthe previous owner installed an automatic trans and put in 4×4....

Inside drivers door.... The frame is solid though 😆

The red one aka kicking wing needs some work. I originnally stumbled across it when i was suppose to go hiking... It jas all the parts TuttuT needed..... But he is pretty much a work truck. The frame is in amazing shape but the floor is gone on the driver side. On the positive side someone has already gone through the trouble oftaking out the interior. But had to gwt it towed to a friends bc 4 jeeps is two too many

The black one has the broken frame. I have repairdd thr ignition system and brakes. I stopped really hard one day and the leafspring mount on the rear drivers side busted. The driveshaft fell out as well. I jakced it up put the shaft back in and refilled the fluid. I found some ratchet straps and three quarter inch cable and strappped it back together. ...... Now it has a small whole in the top of the radiator somewhere.... And the water pump might be foing out.