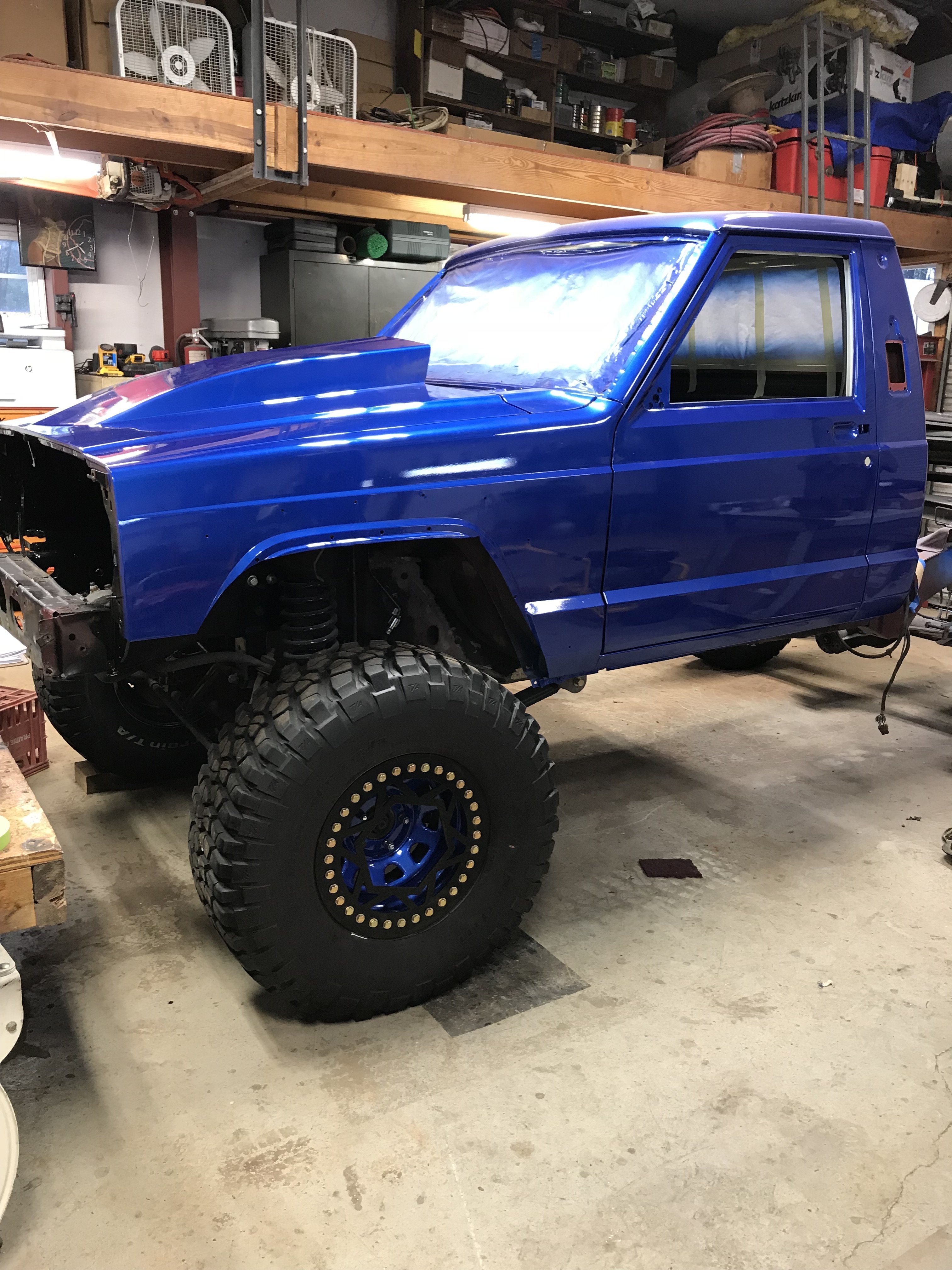 Content Count

57

Joined

Last visited

Days Won

1
Everything posted by Quarterpastgone
After mocking up the console and taking measurements it was time to cut the console to go into the Jeep. Time the rear hoop and seat brackets to be built but have to wait for the seats. Will update on other progress soon i hope.

Got some more done last night, got the reduction box shifter in and routed to keep it in the console. Down position Up position Here is a spare mockup console to get the fitment and holes figured out, had it closer to the parking brake to start but the handle interfered with the parking brake that close. had to move it to the right . And how it looks on the bottom side of the tunnel Will get picture of the final console once i get it fully cut and installed. Till next time.

Big parts finally showed up for the next piece of the drive line, My Atlas 4 got here after 7 weeks and for the most part is in, just have to find a home for the reduction box shifter and hook up the twin stick side for the case shifters. This is as far as it would go in before contact. Cut the old t-case skid off the cross member and had to cut a hole in the floor board for clearance of the Atlas. After having to run to summit to get a new trans mount to fit the adapter correctly it is in. That is my Saturday getting every thing back in and where it needed to be. Shifter cables still to come, did have to clearance the twin stick mount for the one cable after all was in at the right place. hope to get the last shifter in tonight and the twin stick cable to the shifter also.

I am will be getting with you soon, have a family vacation at the end of the month then i can get back to playing with my Comanche and will be messaging you.

Just picked up and snug too swb camper shell. All the glass is good, needs all the seal replaced, tint redone on windows and new shocks, that and a whole new paint job to match the truck. Has any one restored an old Comanche shell, does anyone now where to get seals for these old shells?

Hey y'all what do y'all think about trying to do a meet and greet for the Atlanta/ south east guys?

After much research and trying to find a measurement that i took of a 2 door xj for the location of the parking brake lever location. So i went the old fashion rout and just measured and then made the cut for the hole in the floor. Yes i read all the write ups on using the original long front cable but did not want to go that route. That will give me another good pass-thru for wiring later if i don't fill the hole just yet in the cab for the old cable. Know i am going to have to make a front cable and wait for the new transfer case to get here to finish all the shifter locations and mounting. Got the call yesterday so should be a couple weeks till it shows up. Here are some photos of the console installed and all the stuff lined up and working. Know the the dash bezel on it for final fitment. Till next time Yall have fun.

Not a lot has been done in the last week, been really busy with other things around the house and new model training for work. I did unpack and install my B&M mega shifter and get it installed with the console in the correct location so i don't punch the dash when shifting to park every time. issue i had on my samurai from time to time. Well that made my night after work tonight. Plan to get it out of the shop tomorrow for some better pictures it at right height. That and i need a picture for my PC background.

Any updates or time for pictures?

Fayetteville GA, more of a weekend trip.

New only installed to line up body lines for holes to be parked on fenders, then taken off and stored. Going a different direction know. Have all hardware and rubber edging uncut. $400.00 and you pickup. Will ship if you want to pay for it.

Exhaust hung and back at right height tonight. Build is now at present status. Updates will be slower from know on due to waiting on parts, and now am starting on wiring. but will give updates as i go. Till Next time.

Here is some video of it running. https://photos.app.goo.gl/ZtuhFbaAjbZ6vuYU8 https://photos.app.goo.gl/yzLMVTiznZ5yRMrSA

After a couple very close call with hydro locking the engine it was time for a snorkel, this had to be fully one off due to the space and well big engine. This worked for the street This is how you make it trial worthy That pretty much brings the build to an end here is the last pictures of it before i cleaned her up and sold her. All Cleaned up and with her new owner

Two wheeling trips down and was time for a cage and rock sliders. Along with the finished paint.

Time to make some bumpers that are worthy of the build, took a few weeks but it all went together in the end. The Rear

It was time for the long process of wiring and making all systems talk to each other and work proper.

Time to clean and paint the frame. Going back together Headed from my parents house to my old house for all the wiring to be done and the interior to be done.

Time for some shock hoops and frame tie ins

Trans tunnel needed closed up. and redone for the new shiftier. New Radiator to cool the 3800. Dual pass

Lots of Chassis work and axles.

The first weekend of tear down and first mock up. so Friday night through Sunday afternoon.

The beginning of the Zuyovy, bone stock and worn out engine. Engine build Trans with adapter for the toy case

So this will be a brief over view and lots of pictures of my samurai build i just sold to help fund the Showmanche build. Specs: Engine: 2003 super charged 3800 out of a SS Monte Carlo Trans: 700R4 out of a 1991 S-10 with V6 bolt pattern T-case: Toyota RF1A Axles: 1984 Toyota 8" Tires: 33x12.5x15 Good-Year DuraTrac Body: Lowrange Off-Road rock sliders, and sport Cage, custom ft and rear Bumpers, Hummer H2 Tire Carrier.