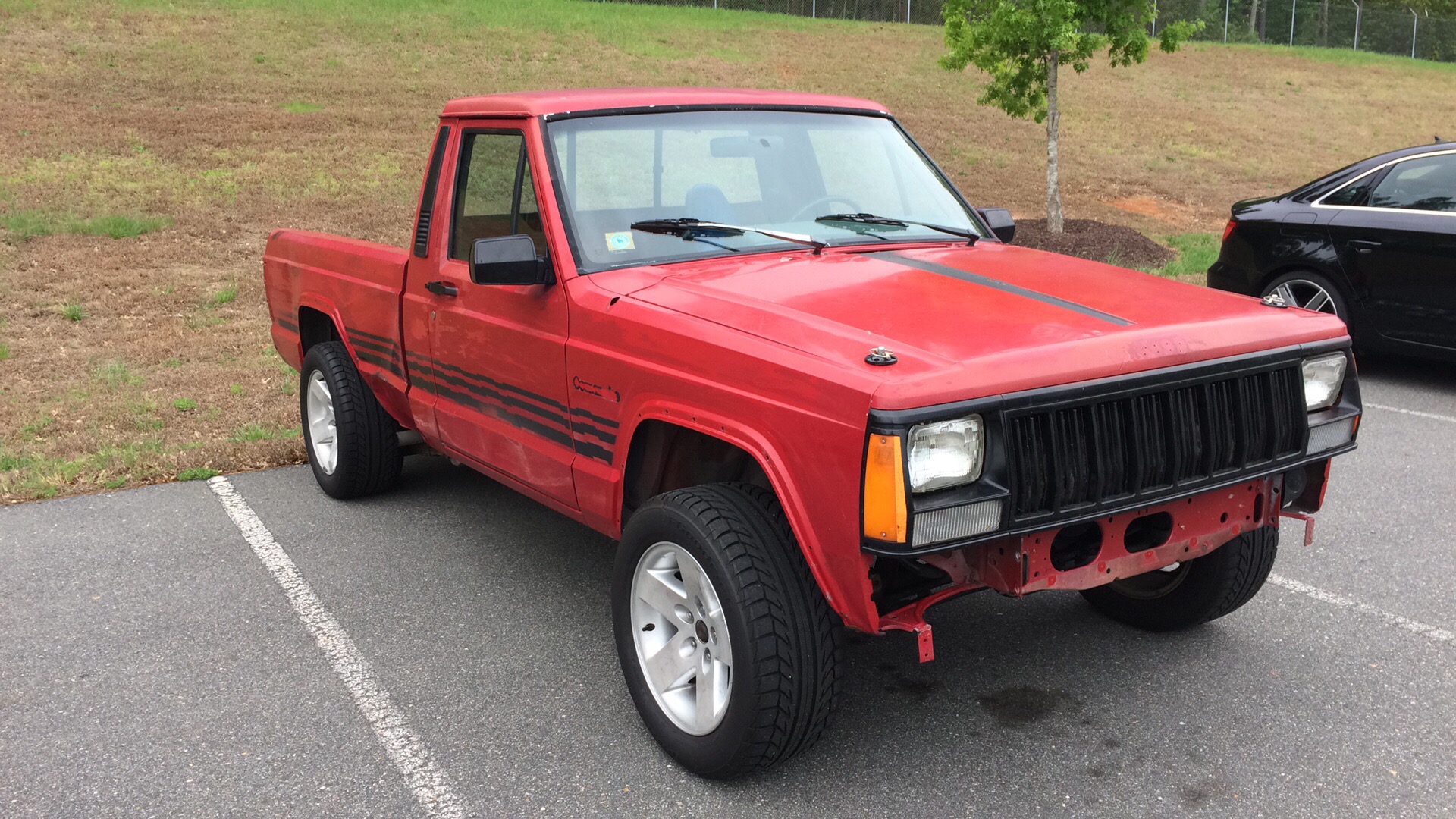 Content Count

18

Joined

Last visited
Consider tires with a 200 UTQG rating. There are some that are very street friendly. Example of this the falken azenis rt615k+. Amazing traction, good in the rain, low price for 17"s and don't wear out quickly. Teampettycash runs a 255/40r17 Rt615k+on the blue Xj in the lemons races and swears by them. They did end up swapping the to a 5.3 as well. On their red mj they are running a 245/45r17 again same tire. I am running 255/40r17 on the Comanche and 195/60r14 azenis are great daily on the civic. The Yokohama a052 in a 225/50r15 would work on your existing ten hole rims. Stick

You are going to have a blast with that truck! The engine fits in there nicely and likely will help the take weight off the front end compared to having a 4.0 Couple questions regarding clearances What is the distance from the front axle to oil pan? What is the distance from the pad on the front axle to the steel portion of the front bumpstop cup? how much hood clearance do you have? what is the length of the new rear driveshaft from u joint to u joint? also Yokohama has a A052 in the 225/50r15 if a sticker tire is needed.

Changed the rear suspension to fiberglass springs. These weigh 9 lbs each. Installed new shocks and a chevy blazer rear swaybar.

Installed a set of Xj shackles which lowered the rear slightly. Took a set of jk rubicon front springs and cut off one full coil. This dropped the front 2 inches. The truck still has 3" of uptravel. Checked clearances at full compression with the rubber stops removed and there's barely any room. The axle is about 3/4" away from the oil pan. The right upper control arm is very close to the engine mount and somehow clears the oil pan. Here's two inches lower in the front.

Been running the following suspension setup for the past year. Larger sway bar from a zj grand Cherokee, upper and lower control arms from a wj grand Cherokee, poly upper control arm bushings on the axle side and 2" blocks in the rear.

I have been running the "mini" stroker engine for several months Now. Everytime I drive the truck I don't expect it to accelerate that quick. The power to weight is much different compared to my old lifted renix XJ, civic and lifted 05 Lj rubicon I first had ran the 96+camshaft and 1.7 roller rockers for a couple months. More torque starting at idle and it would rev out stronger. Then located a $50 232 engine from a 1972 cj5 Next found a 80k mile Xj 4.0 Pulled the Xj engine out of a wrecked Jeep on a Saturday morning, checked the cylinder. Installed the 232 crank with new main and co

Installed yellaterra 1.7 ratio roller rocker into the 1996 engine. I highly recommend the 96 cam and the 1.7 roller rockers. I ran this setup while sourcing an low mileage 4.0 engine and a 232 crankshaft. A 232 not a 258 crankshaft. If no ridge is present in the cylinder, a 232 crank can be installed into a 4.0 block using the 4.0 pistons and 4.0 rods The quench height will be 0.030" using the thicker head gaskets available 0.050" compressed head gaskets not the 0.041" compressed gaskets some folks argue that 0.030" quench is too tight. A 232 crank is a great way to tighten qu

Swapped in a 96 brake booster and master. Installed the later 4.0 intake. Installed an aluminum driveshaft Ditched as much weight as I coul including the jack, bumpers, spare tire and hoist then went to the track. Struggled to get the old tires to hookup in first gear. Took them down to 15 psi. Managed to run a 15 second quarter mile at 91 mph.

Made a short shifter using a spare ax15 shifter. Cut the ball off the end of one shifter and welded in an extension piece. Took one spare housing and cut it down to become a spacer. Installed longer bolts and two gaskets.The idea here is to lengthen the ball end and then move the pivot point higher. The travel between first gear and second was six inches and now is four inches.

When I got the Comanche, the engine ran and you could drive it but it needed attention. Found there was no compression on cylinder number one. Pulling the head revealed a piece missing from the piston and a block beyond repair. I put aside thoughts of an engine swap to a ford 2.3 turbo and a t5. Pulled an engine from a 1996 Grand Cherokee with 220,000 miles. Moved over the flywheel and didn't bother to swap to an external slave. Just wanted to drive it. Installed an aluminum radiator and one later model Xj auxiliary cooling fan and wiring, ditched the mechanical fan. The hvac unit un

I had considered milling a head to raise the compression and running a 0.043" compressed head gasket which gives a 0.065" quench Every 0.010" you take off the head you reduce the volume in the head by 0.5cc I was looking at taking 0.110" off the head which reduces the head volume by 5.5cc. Using shorter push rods from a 2.5 engine and the thinner 0.043" compressed head gasket. The static compression works out to 9.5 to 1 and a 0.065" quench The 232 crankshaft gave me slightly more compression 9.7 to 1 and a tighter 0.030" quench On propane, You could mill a head 0.110", shorter

I installed a 232 crankshaft shaft out of a 1973 cj5 in a low mileage 1996 4.0 block with stock rods, stock pistons. You Must use a 0.051" compressed head gasket. The quench height is 0.030" and the static compression is 9.7 to 1 with dynamic at 8.5 to 1 Add a 1996 camshaft and 1.7 yellaterra roller rockers, pull the head use a carbide bit on the push rod holes for clearance. They fit under the 96-up steel valve cover. 1.7s are great as well as the 9.7 compression from the 232 crankshaft Add a 99 up intake manifold. Match the ports to the head. If you port the head focus on cleaning up th

I am running 9.7 static compression 8.5 dynamic on 1996 stock block, stock rods and pistons. Added 1.7 yellaterra roller rockers, 99 up intake, 96 zj down pipe, no mechanical fan, ported head meaning bowl cleanup and shaping valve guides, matched intake to head, took off the 90 degree edge on the bottom of the throttle body. I can run through all the numbers but You end up with a piston to head clearance of 0.030" it's on the tight side but it works You'll love the higher compression as it unlock more power every where in the rpm range. Yellaterra 1.7 works great on a 1996 camshaft be

Thanks eagle! Spoke with archer brothers racing and they don't have left over fiberglass rear springs. Anyone got a set?

fiberglass rear springs. Does anyone have any specs on these used in the archer brothers racing trucks. Heard they were made by flex form. Looking for weight of each one, dimensions and a spring rate.