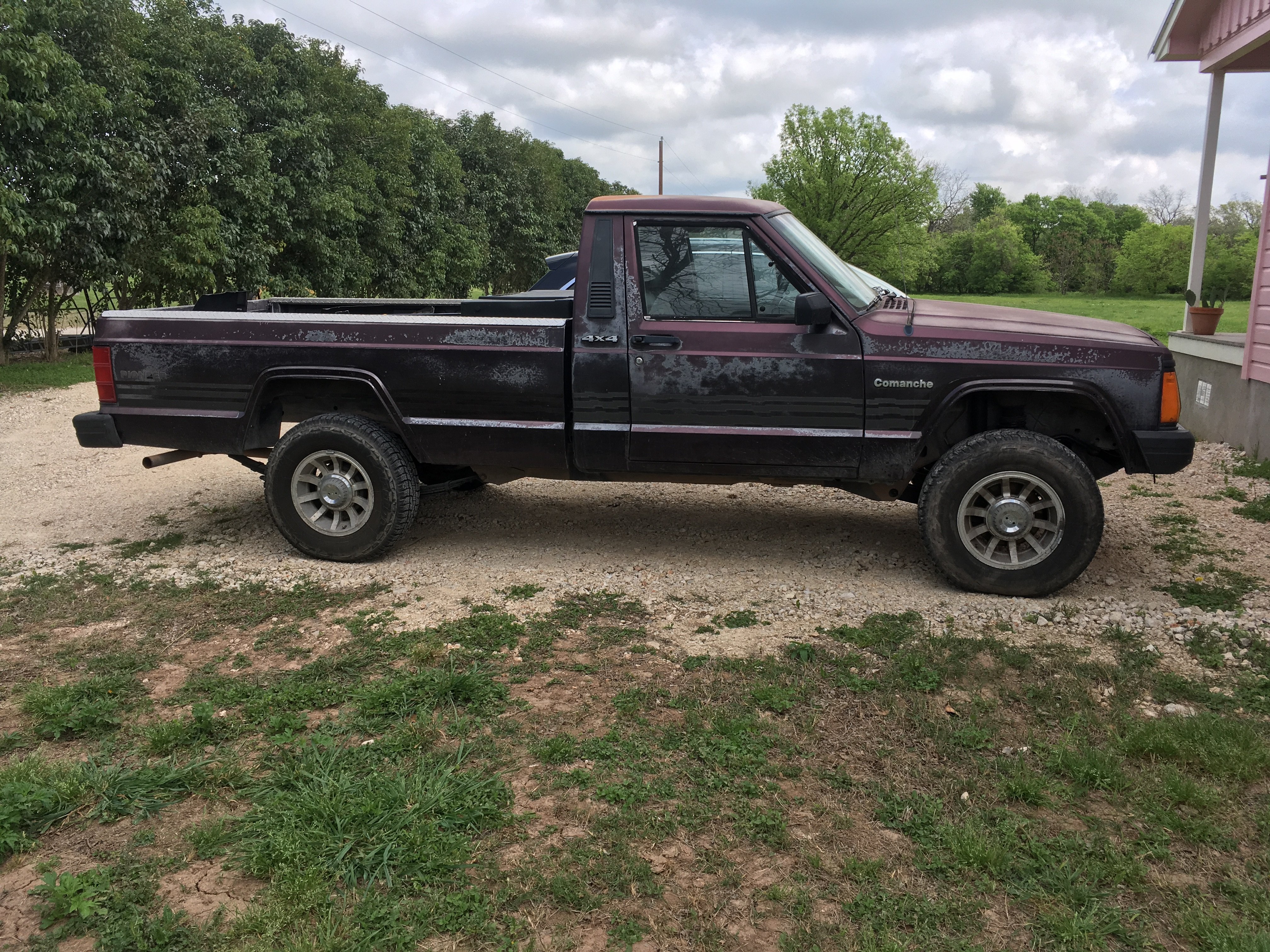 Content Count

15

Joined

Last visited
Everything posted by JefCooks
You can smell it from a ways off. I left it open to air out for days and it didn't help much with the smell. I need to open it back up, clean it with some soap and water and let it air out again. It's supposed to be mighty hot and dry this week so maybe I'll do it sooner rather than later.

I just finished converting my '92 over to R134 yesterday if you want some help on the write-up. I pulled all the hoses and the condenser, flushed everything including the evaporator and installed new expansion valve and accumulator. I also drained the SD709T compressor and replaced it with Ester oil which is cross compatible. Rented a manifold, vacuum pump and flush gun for the project and got it all vacuumed down and refilled without problem.

The listing had expired, but I renewed it in case anyone wasn't able to see the wheels before.

Cool, thanks Pete. First is the camper when I picked it up in Denver. Second is when I got it home and started cleaning it. And last is me airing it out. I'm waiting to roll on some Raptor Liner in the bed before I put the camper on. I'll update once I do!

Rear bumper no longer available.

Wanting to clear out some of the spare parts I got when I bought my MJ. Both bumpers are in great shape and rust free. Rear bumper has 1 small fold that could prob disappear with help from a b.f.h. Front bumper is ready to go. Have 2 sets of fender flares. 1 set is black plastic and textured. 2nd set was original on the truck, has all but 1 mounting hardware and 2 spares (one shown, one not) due to fiberglass being damaged by sun. Also selling a tailgate with a dent in the upper passenger corner but works fine and has no rust/rot. Aside from the dent, it's in good shape. I haven't been around enough to know what fair prices are, just guessing from eBay prices. I'm not looking to scam anyone and hope everyone will be fair with me as well. Prices are obo plus shipping from 78621. Thanks Bumpers - $80/pc Tailgate - $150 flares - free if you pay shipping

These came as spares when I bought my truck a couple months back. They sell for a pretty penny on eBay. Thanks https://austin.craigslist.org/wto/d/elgin-jeep-turbine-wheels-polished-15x7/6877847595.html

Does anybody have tips on how to bastard pack it so I can gain about 2-3 inches? I would maintain a better ride with longer leads correct?

Looks like this really could be an MT pack.

Ok thanks. I'll take a pic in a couple hours.

Should have arranged the pics better, sorry about that. Pic 1: track bar Pic 2: adjustable track bar? Pic 3: UCA perch & slag from torch Pic 4: LCA drop bracket?

Hi everyone, Ive been lurking for a long time and getting a bunch of questions answered so this will be my first question. This first part is just some back story if you want it, otherwise skip ahead. I've been debating on which lift to get for my Manche (3.5 or 4.5). While under the truck doing some homework, I saw a few things that look out of place. It appears that it has had more suspension work done than I previously thought. I knew it had WJ L and UCA's and a WJ sway bar plus a 2" lift puck. What I'm seeing now is the UCA perches have been hacked up and the LCA may have a drop bracket. I attached some pics so hopefully someone can school me if I'm an idiot. I'm looking for some pics and/or specs for stock suspension components along with some answers. Is my UCA perch mangled for a reason? Is that really a drop bracket on my LCA? Is my track bar factory or adjustable aftermarket? Whats the drop on an OEM pitman arm? How can you tell the difference between a leaf pack with an AAL vs an MT leaf pack? And finally, does this make sense to anyone or am I just rambling? Thanks!

Oh man, I almost forgot! I finally found a Wildernest! I drove from Austin to Denver to pick it up. It's in good shape, but I want to do a solid update to it before I put it on the Jeep. While that's going on I'll spray in a bedliner and swap my tailgate out with a spare I have. I'm trying to upload some pics. It I'm sized out. I'm on my phone and can't shrink the photos so it'll have to wait.

Finally, I ordered a Smittybilt front bumper and winch from Quadratec. It was a pretty decent deal when bought as a package, bumper, bull bar & winch all together. Sure it's not a Warn, but it was cheap. And finally got the windows tinted (a necessity in TX). The Jeep has OME shocks from the P.O., but suspension wise it's ZJ coils with 2" spacers and ZJ lca's, uca's and sway bar. My next plan is to get some RE 3.5" coils and install some 1" shackles in the rear to level it out. I found some Jk wheels on CL I want to get as well with the factory 255/75r17 mud terrains. So in the near future I'll hopefully get some proper springs and level out the lift, get some adapters & install the wheels and, if I need to, trim a little around the fenders.

I also ordered a hitch from Krusty and installed it. Looks great and is more heavy duty than I expected. I put it on by myself but having an extra set of hands would have been nice. I found an HO cluster from an XJ in the tool box along with a bunch of spare parts so I swapped it over. Having a '92 does have its perks; no speedo cable! I swapped over 2 pigtails and it worked great (aside from replacing the temp & oil sensors). I gained 50k and lost my gear indicator though.

So I've been doing a few things to the Jeep, with a few more planned ahead. I pulled the interior out, cleaned the carpet, doors and panels, laid down some Noico sound dampener and installed 6.5" speakers front and rear.

Austin. Just bought my 1st Manche a few weeks ago and loving it. '92 Pioneer 4x4 4.0. Paint is faded but getting everything else the way I want first.

Thanks for the heads up 89, a bedliner is not my first choice because of cost. I've also been thinking of "industrial" paint for tractors and such, just don't know where to get that done and am never painting my own rig again. Anyways, here's some pics. Nothing special.

Hi everyone. I just bought my first MJ 2 days ago and I'm pumped. I live in Austin TX and wanted a cool, fun project to take off-roading, camping, haul the canoe, etc. I had been looking for a few months but everything around me was a short bed and I wanted a lwb. Tangent: I couldn't find anything locally so I looked abroad. Found someone selling a wildernest in Spokane and a lwb 4x4 in Missoula. I figured I could fly into Missoula, buy the Jeep, drive to Spokane, stay with my family, buy the wildernest and then drive home. The MJ wasn't perfect, but it was what I wanted and I REALLY wanted the wildernest. But I got distracted and took one last look locally. That's when I saw it.... Continue story: I got on CL and finally found my unicorn in south TX. 1992 Pioneer lwb 4.0 4x4 auto (my wife refuses to drive standard). I wouldn't have to deal with renix, there's 0 rust in south Texas, body was pristine; I must have it. So we took a trip to the beach and, on the way home, would detour inland to check it out. It was beautiful! Original paint is well worn but there, no dents, no dings, no rust, great interior, AC, cruise control, 155k original miles, turbine wheels, it was more than I could have hoped for. I looked underneath and it kept getting better. OME lift, MT springs, no leaks and again, ZERO rust. I had to have it but I wanted to get a good deal so I played ignorant, like I didn't know what this guy had. I started low, knowing he would say no. He stayed strong but I eventually got him down below what I was expecting to pay. I was elated. We signed all the paperwork and I was on my way. Quick stop to fill up, back on the hwy, cruise set to 70 and off we went for the 6 hour trip home. Now is time for the fun to start. Its in great shape but needs a few things, so I'm gonna start cheap and work my way up. AC needs a recharge because summer is coming quick in TX. Might also get the windows tinted. Soon though will hopefully be some new tires, bumpers and a paint job. I really dig the eggplant color it has but I'm also interested in bed lining the whole thing for durability (open to suggestions). Photos to come later. Thanks for any feedback. TL:DR bought my first MJ!