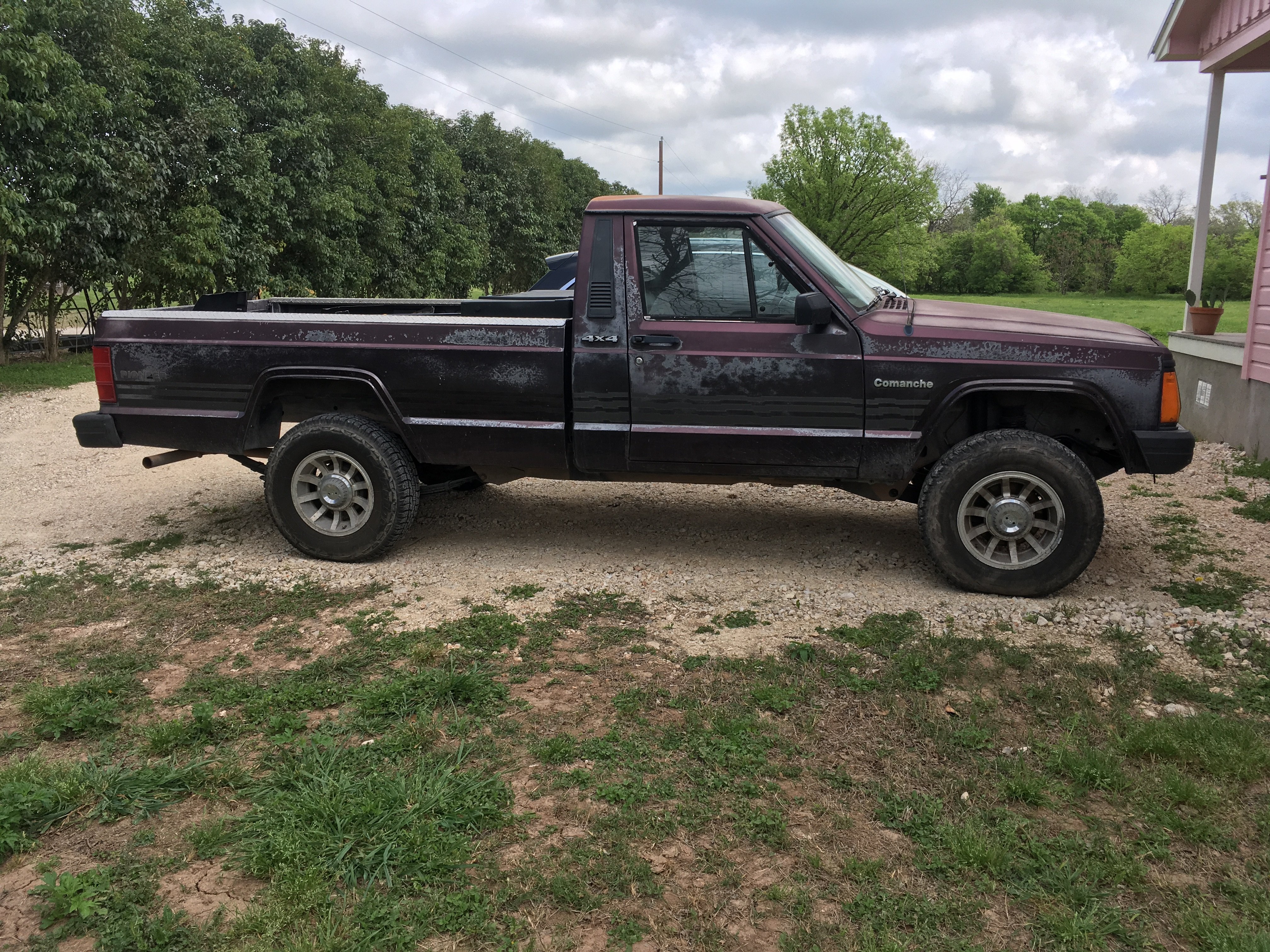 Content Count

3

Joined

Last visited
Profile Information
Location
Interests

Gardening, camping, cycling, canoeing, tinkering
Austin. Just bought my 1st Manche a few weeks ago and loving it. '92 Pioneer 4x4 4.0. Paint is faded but getting everything else the way I want first.

Thanks for the heads up 89, a bedliner is not my first choice because of cost. I've also been thinking of "industrial" paint for tractors and such, just don't know where to get that done and am never painting my own rig again. Anyways, here's some pics. Nothing special.

Hi everyone. I just bought my first MJ 2 days ago and I'm pumped. I live in Austin TX and wanted a cool, fun project to take off-roading, camping, haul the canoe, etc. I had been looking for a few months but everything around me was a short bed and I wanted a lwb. Tangent: I couldn't find anything locally so I looked abroad. Found someone selling a wildernest in Spokane and a lwb 4x4 in Missoula. I figured I could fly into Missoula, buy the Jeep, drive to Spokane, stay with my family, buy the wildernest and then drive home. The MJ wasn't perfect, but it was what I wanted and I REALLY wanted the wildernest. But I got distracted and took one last look locally. That's when I saw it.... Continue story: I got on CL and finally found my unicorn in south TX. 1992 Pioneer lwb 4.0 4x4 auto (my wife refuses to drive standard). I wouldn't have to deal with renix, there's 0 rust in south Texas, body was pristine; I must have it. So we took a trip to the beach and, on the way home, would detour inland to check it out. It was beautiful! Original paint is well worn but there, no dents, no dings, no rust, great interior, AC, cruise control, 155k original miles, turbine wheels, it was more than I could have hoped for. I looked underneath and it kept getting better. OME lift, MT springs, no leaks and again, ZERO rust. I had to have it but I wanted to get a good deal so I played ignorant, like I didn't know what this guy had. I started low, knowing he would say no. He stayed strong but I eventually got him down below what I was expecting to pay. I was elated. We signed all the paperwork and I was on my way. Quick stop to fill up, back on the hwy, cruise set to 70 and off we went for the 6 hour trip home. Now is time for the fun to start. Its in great shape but needs a few things, so I'm gonna start cheap and work my way up. AC needs a recharge because summer is coming quick in TX. Might also get the windows tinted. Soon though will hopefully be some new tires, bumpers and a paint job. I really dig the eggplant color it has but I'm also interested in bed lining the whole thing for durability (open to suggestions). Photos to come later. Thanks for any feedback. TL:DR bought my first MJ!