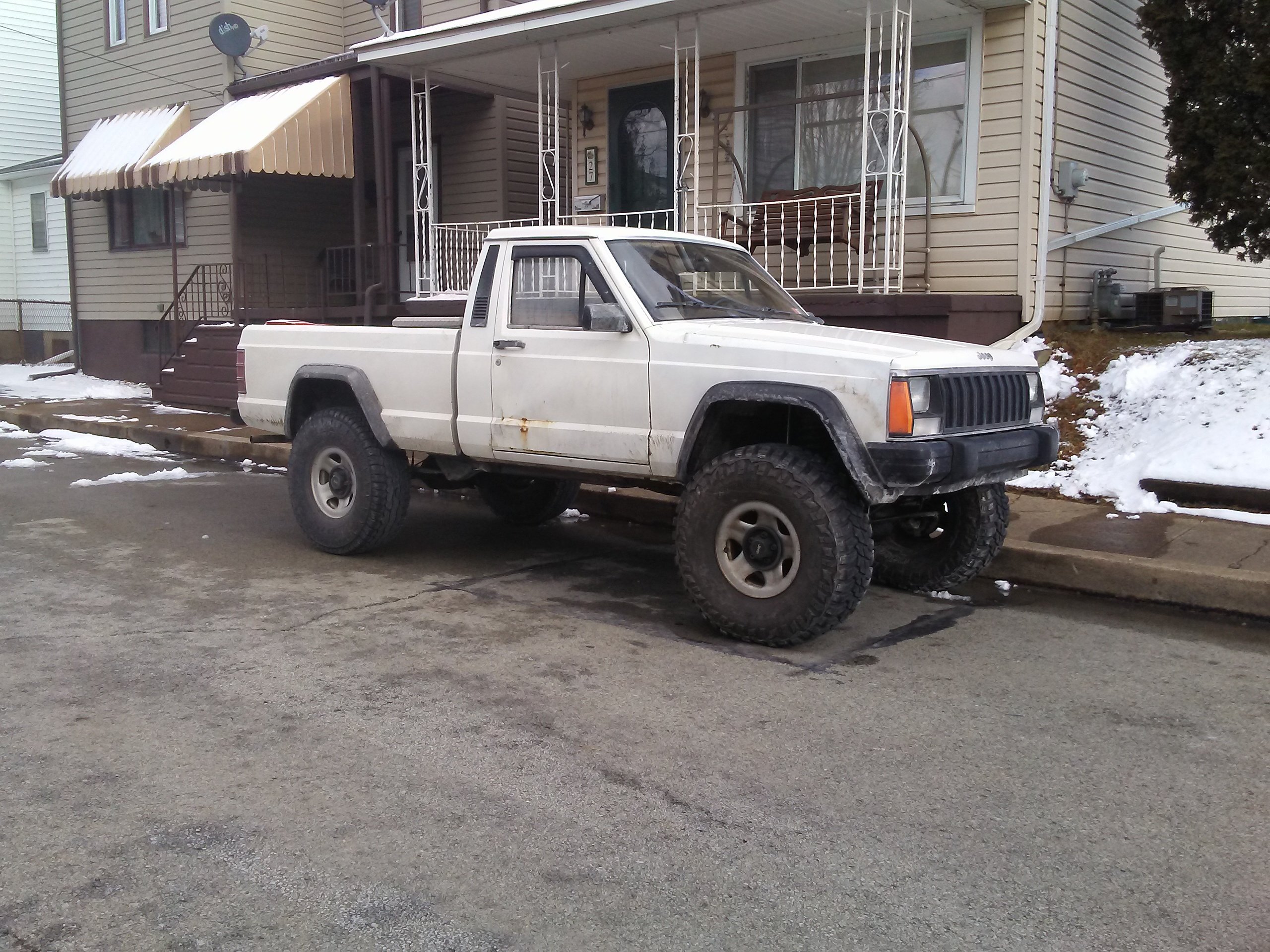 Content Count

45

Joined

Last visited

Days Won

1
Profile Information
Gender
Location
Interests

Anything jeep! Camping fishing riding atvs walks anything outside and also building my truck and anything else in my garage!
Ok, yeah I'm sorry i didnt get to read it completely, i was at work just skim looking. Anyways thank u for replying and yeah id like to buy them from you my zip is 15650 if u could let me kno shipping costs. Thank you

Where r u located and is shipping an option? Thanks Eli

Probably came across the add too late but, if some change there still available and no one has gotten them i will have the money this comming friday and would like to get them if u still have em i can paypal the money same day or money order or cash if ur driving distance lmk thanks

I just did the calculator thing to figure oit what speedo driven gear i need and I'm pretty sure the one u got will get me damn close! Well at least better than 12mph off lol. Anyways id really like to get your part can u pm me and let me know where ur located for pickup or would u ship if ur not driving distance? Thanks Eli

Just a reminder of the up comming bantam jeep festival! Last year over 5000 jeeps of all kinds joined the event and i will be taking my MJ to the festival this year, so it would be noce to not be the only comanche owner there!!! Anyways it is located in butler county in the town of slippery rock pa located about 45min outside Pittsburgh pa. The event has lots of onsite activities trails ranging from dirt roads to extreme rock crawling jeep show lots of vendors with jeep parts food giveaways all sorts hope to see some CC members! June 7th 8th 9th there is camping on site also another campground thats cheaper near buy but more private lake aurther campground is were i will staying reserve a spot soon!

Front axle is a hp dana 30 the rear is the junk of all junks the dana 35, however bfore everyone starts telling me not to waste my money on the dana 35... I'm not! K i have a ford 8.8 posi out of a 01 explorer sport. No it is not in the truck yet but id like to regear b4 i put it in the truck that way i only have to do the front axle gearing while in the truck. Thanks for the feedback!

Ok, i have never changed gearing in any of my vehicles before, so with that said here's my question. My mj is a 4cyl 5spd with 3.55s and 35inch tires yes it is a dog! So now that my money is getting to a point were i can start to work on my truck again it's time for gears. What i want to know or get suggestions on is should i go with 4.88s or 5.13s. i plan on staying with my current engine and tire size possibly 33s next time but anyways, so what would you guys suggest? Dose anyone have or had the same set up before? what did you go with? My truck is my daily and every so often gets id say light to medium wheeling. So should i go with 4.88s or 5.13s i want the truck to be able to still cruise at 60 at least but still want to be able to get out of 3rd gear and pull out on hills. Any feedback is appreciated like i previously stated ive never changed my gearing so i don't know how noticeable the gear change will be I'm hoping to get what I'm after with 4.88s cuz I'm thinking 5.13s will give me the power i need but will be a pain on the highway. Thanks again in advance! Hope to see club members at the up coming bantam jeep festival!!!!

Ok! Great I'm glad there will be a few members there atleast mabey we can round up some new members too! I personally never been there it will b my first time there. So with that said since you have bin there do you have any idea of a place we could all meet up? If not mabey we all will have to jist play it by ear (or msg) lol

Yes, you mention another thing i didn't think of it is damn close to those tabs, yeah mabey i will take your advice on this one. That way itll have a warranty too if it leaks! Thanks for the info again its little stuff like that i wouldnt have thot of till it was too late! Like i said i have dun windsheilds befor just not in a mj

No i hear ya on that! Windows are a pita! But ive dun a few windsheilds b4 aswell as rear windows. I just did my mj rear window like 2months ago went from a leaky noisey sloder to a nice shiney leak free solid window. Like i have said ive done mu share or windows just never had to do anything like cut the alignment tabs! Thanks for the heads up tho!

Also to anyone who is going and would like to meet up pm me and we can figure out a location and time to meet up!

Just a big shout out to remind all the jeepers about the bantam festival! Also a question is anyone from the C.C going? If so id like to meet up with as many fellow comanche lovers.it will b my first time going to the festival and want to make it worth it. Now i know alot of the CC members are not from around PA but i hope to see as many of you as possible! For info check out the website at bantam jeep festival.com

After i saw the first couple replys to my question, i started to wonder about those locator pin tab things and how the rubber would fit with them. I do all my own work on my truck so i guess ill be cutting tabs or finding new trim to replace my bent trim. I really appreciate everyones feedback and info thanks again. Now to decide trim or rubber.

Ok, good to know guys, thank you. I also agree tho i think the rubber actually looks better, and may also help to guard against leaks in the future.