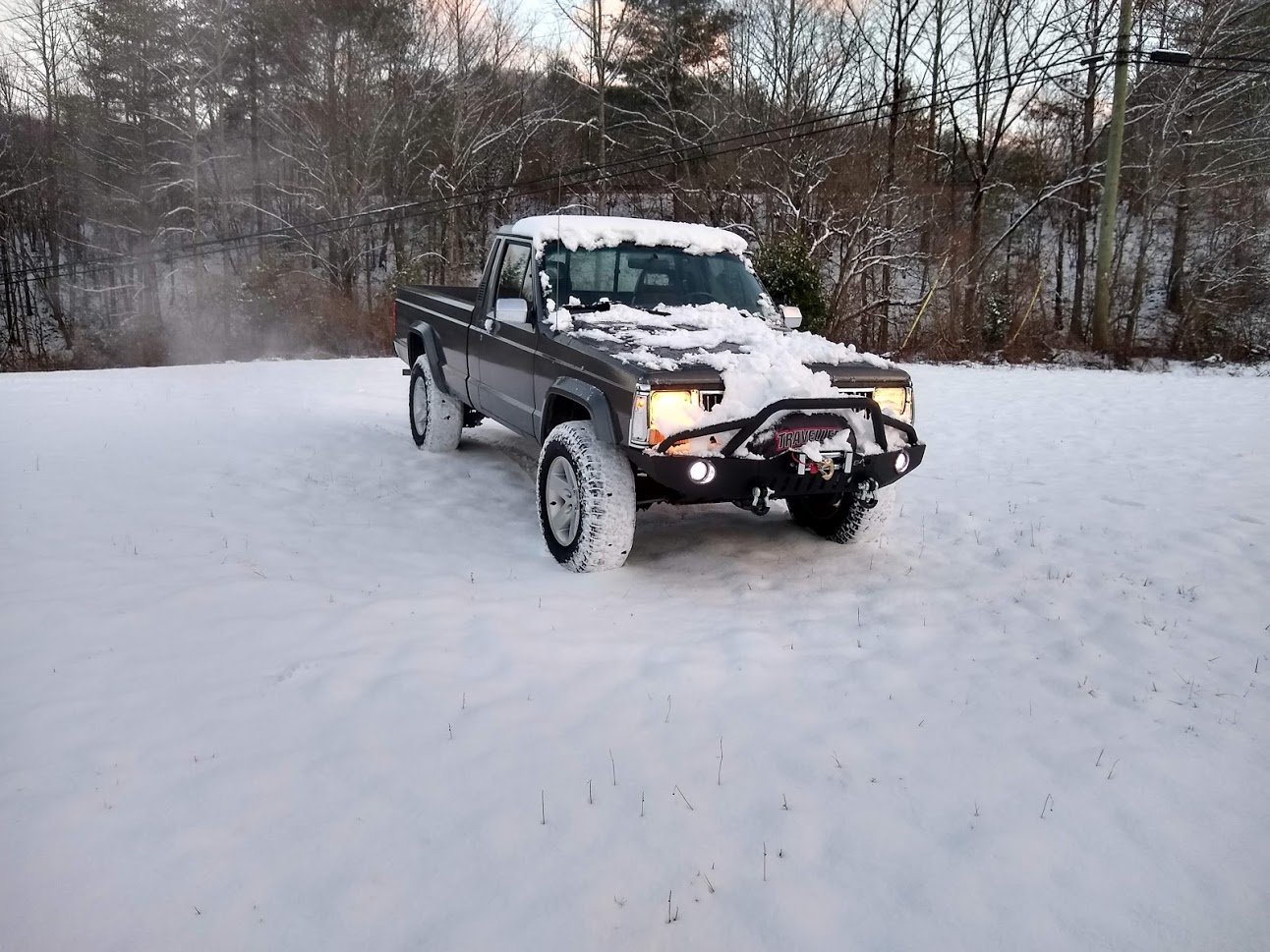 Content Count

184

Joined

Last visited

Days Won

1
Profile Information
Gender
Location

Franklin North Carolina 28734

Interests

Mj or anything with 4 wheels and a motor.
Hey guys, Appreciate the answers for my question. I was able to get one from the local auto parts store and noticed its longer than the ba10/5 that i removed. Just was wondering if anyone else noticed this and has advice about if i need to cut it down to the same height or not. I just trying to think ahead with future clutch replacements when i go to replace it if the extra length would cause trouble removing it. Photo below Left Cj bushing Middle Ba10/5 bearing Right Ax15 pilot bearing from clutch kit. Thanks for the help.

Hey y'all, I'm currently deep into doing the ba10/5 to ax15 swap and realized the pilot bearing in the kit does not fit right into the crankshaft. Can someone point me in the right direction and confirm this. Would a 74 Cj 304 pilot bushing work for me? My transmission input shaft is about 0.75 inches for the tip diameter. Thanks in advance. :)

I didn't really noticed a huge increased in coolant capacity. I am running an open system with a generic coolant bottle and the total amount for my truck to fill it completely up was 3 gallons total.

I can't remember exactly what I pay to do this but here's a quick overview of estimates. Prices may varies depending on where you source the parts from. $50 for coolant filter and base with shipping on Rock Auto $10 for 2 hose barb fittings and misc hardwareat Ace Hardware $Free for metal to make a bracket. So you're looking at about $60 to do it by ordering some stuff online or if you get the base and filter at the parts store more like $100. From my research RockAuto was the cheapest on the base and filter. You're correct and I got little bit inspired by the video he made. There's a few writeups on other forums but personally I feel like how I did it was the most simple and straight forward way that I seen. Also found many threads of people saying that you don't need a coolant filter just maintain your system. Unfortunately not everyone (including myself) gets a Jeep that has perfect service history.

I will try and see what I can find, anything is possible with the internet. Realistically unless magically a supplier pops up with these connectors probably I will figure out some type of core basic system in order to get the rare connectors while the rest is brand new components. On the top of my head that would work roughly out to be 80% new and 20% reused components. Currently going to just stick with simple stuff to get the ball rolling.

Here's another one to add to the list "Thank you for not popping out of third gear today" Ah the good old Ba10/5 Thankfully soon I wouldn't need to worry anymore about that issue.

Noted I'll do more researching into getting one. Appreciate the suggestions. I'll try and see if that can be done. The only problems I see is the hunting down the ecm connectors, tcm connectors, and other specialty connectors on the engine wiring harness. Good news is a majority of the connectors can be source new so it's possibility when I get more experience with making these wiring harnesses.

@Minuit Thanks for the tips. As well for the wire supplier suggestion, really appreciate it because I was trying to find quality wiring at a decent price and only found a couple handful of suppliers. I'm serious about doing it but my only hold up is I want to make sure there's a demand or interest before I invest a lot of money into it. That's kinda the reason why I posted this feeler thread because I would totally love to do this for the community. Currently at the moment my game plan is ordering stuff to make test runs of some of my ideas. I completely agree with starting with smaller stuff that's all my ideas at the moment is basic stuff. If anyone has more ideas for small wiring needs let me know. I only got one question for you Minuit at the moment. What would you recommend for a ratcheting weatherpack crimper on a budget? Currently all of the ones I seen are $100+ Again appreciate the tips.

I don't what the best section to put this in so if I put it in the wrong place feel free to move it. A little bit ago, I started to experiment with creating wiring harnesses that I need for my truck by using some spare pigtails I had gotten from a Cherokee I was parting out and junkyard trips. First I made one that plug and plays to adapt the oem harness for a ba10/5 to fit an Ax15 backup switch. Second is a plug and play harness to convert the vacuum switch that turns on the light in the dash to the later style electric switch on the transfer case. Photos below show my prototypes.Photo on the right is the oem ba10/5 backup lights connector. I got another idea that I want to do but I waiting on parts to come in to be able to do it A plug and play harness that will allow the fan to be manually turn on with the option if desired for a time delay so the fan will stay on for a few minutes after shutting off the engine, then stops to help heat soak. Possibility another idea is a trailer plug and play harness that is the 7 blade design with trailer brakes. In addition, I can make pigtail connectors to splice in to replace some of the factory connectors if desired. I want to see if anybody was interested in any of these ideas because I would love to provide new products to the community. My plan is to use only brand name connectors such as delphi etc, plastic wire loom to protect the wiring, and heat shrink tubing, electrical tape etc to protect solder connections if depends on if harness has it. Transfer case and Ax15 harness have not solder connections. The more people interested the more I can cut overall costs down by buying materials in bulk. Please give me your thoughts everyone because I want to see if this is a worth while idea for the community. Also I can look into other connectors or do custom wiring harnesses so please feel free to give me ideas.

I hope that everyone that sees this thread will go check their coolant and change it regularly. I believe the previous owner of my truck put stop leak and never really changed the coolant. After over a year of dealing with disgusting coolant and multiple attempts at flushing with distilled water and Prestone radiator flush. I had enough and was determine to fix my problem once for all. Parts List Wix Coolant Filter 24070 5in length or 24069 4 in length. (Make sure the coolant filter does not have chemicals in it. These two filter do not have any chemicals in them.) Wix Filter Base 24763 Hose Clamps Heater Hose(maybe be need depending on mounting location) Barb Hose Fittings 5/8" Barb 1/2" Threads Ace Hardware 4501235 (Any fittings will work just make sure the threads are 1/2") Metal (if you choose to make a mounting bracket) Determining The Cause of Coolant Turing Colors Coolant in our trucks are suppose to be an alien neon green color. The problem I was facing was my coolant over a 2-4 week period would turn brown. There is three major potential causes of this change in coolant color. I am not an expert but here are my understanding from my research. 1. Possible Oil Contamination: To check look in the radiator and overflow bottle or look in the coolant bottle on closed systems for a milkshake like substance. Also look at the oil dip stick and oil fill cap for this milkshake as well. If found this indicates a possible head gasket issues or on automatic models the trans cooler built into the radiator has failed. If you take a sample of coolant and let it sit unshaken for a few hours to a day, you will see oil separate and float to the top of the coolant. 2. Exhaust Gases: To check open the cap on the radiator on open systems or coolant bottle while COLD and start your engine. If exhaust gases are getting into the system, you should see a stream of bubbles escaping over a long period of time. A good coolant system without exhaust gasses leaks will have a few bubbles on start up is normal and will disappear shortly. 3. Rust: If you can rule out the first two, this is most likely your problem. A good check is removing the radiator cap and overflow bottle cap or bottle cap and looking into the system to see if there any brown sluge. Also if you take a sample of the coolant out and let it sit unshaken for a few hours to a day, you will see a separation of heavier sluge and particles on the bottom of the container. My problem was rust in my coolant system. This is a problem with our engines due to the block and heads being made out of iron. Cleaning and Refreshing the Coolant System Step 1: I highly recommend using Thermocure flush before install. Works wonders to get rid of rust and sludge in the system. The process of doing a flush with Thermocure is simple by just draining the coolant system and dumping in one bottle of Thermocure with distilled water. Then just put the coolant system through several cycles. I left in it for about 4 days since i consider my case severe. Below is before and after pictures of the coolant overflow bottle with only Thermocure and distilled water. Also behind the water pump after use. Step 2: To ensure reliability and cleanness of the coolant system, I highly recommend replacing the following parts: Radiator Water Pump Thermostat Optional but still recommend doing it at the same time. Hoses Overflow/ Coolant Bottle Also don't cheap out on these parts and buy them used. I learned that the hard way with the radiator because I believe the Jeep it came from had issues and it added to the problems with my truck in regards to the coolant system. Tips on Refreshing the Coolant System I could have done a write up on installing a water pump, radiator, etc but since those are easy to find out the process to do. Here are some tips that I learn that will help with install with these parts. 1. Loosen the nuts on the fan pulley and bolts on the water pump bolts with the belt still on. These pulleys can become hard to hold on to in order to loosen the hardware with out the tension of the belt on the pulleys. 2. In order to remove the radiator cross member, unbolt the front clip from the fenders and move it about an inch forward. This will allow easy removal and prevent the unnecessary pain of removing torx bolts on the cross member to remove the front clip support bracket. 3. Make sure you put rtv on the water pump and thermostat gaskets to ensure no leaks. Coolant Filter Install Step 1: Drain coolant system before install. Step 2.: Find a suitable location to place the filter and base. Find what works the best for you and your truck. The location I chose was behind the ac compressor /alternator and forward of the distributor mounted on a bracket that I made that bolts to the valve cover. Step 3: The coolant filter will be run in line with one of the heater hose due to the filter is a by pass filter and can not handle the volume of water on a main coolant hose. I chose to run the filter on the return line for the heater core with the hose connectors that I had. Depending on your mounting location you may need a 90 degree fittings or other fittings to prevent restricting the hose from free flowing or run in line of the intake of the the heater core. When installing your fittings make sure to use telfon tape or rtv to seal the threads to prevent leaks. Make sure the hose connectors are run in the correct direction of flow for the hose you wish to use. Below is the diaphragm for renix coolant system routing. Step 4: Run the heater hoses to the coolant filter base and use hose camps to secure the hoses. Cut and add as need to fit your application. For my install I just cut the return hoses and remove about 3 inches of hoses to fit the coolant filter. Step 5: Install Coolant filter onto filter base Step 6: Add protective wire loom or some type of protector to prevent hose(s) from rubbing if needed. Step 7: Add 50/50 mixed coolant and bleed air out of the coolant system by ruining the engine and getting to operating temp when the thermostat opens up. Highly recommend getting a coolant funnel makes this process easy to ensure all of the air is bleed out. My thoughts and experience as of 6/6/2020 I finish this process about 3 weeks ago and I haven't had any trouble except for needing to tighten up a hose camp or two. The coolant is staying that alien green and I don't really see any floating particles in the system. In the overflow bottle there are some particles but that is to be expected in an overflow bottle. Overall I believe this is worth the money and time to do and ensures a longer life for coolant parts and the engine. I might be crazy but my truck seem to run a little bit better and the renix seems to be happier than it has ever been. I plan on updating with my experiences and any issues that comes up I will let everyone know. Hope this write up will help someone out facing a similar issue. If there any errors or suggestions please let me know and I will edited them in.

Price dropped on everything. Want them gone so make me an offer or offer me a trade.

Clearing out some parts to make space. Prices do not include shipping. Everything is open to offers or trades. Automatic Brake Pedal Assembly in good condition $15 obo Gas Pedal fits automatic and manual $5 obo Single Diaphragm Brake Booster $5 obo

AC compressor and Alterantor are sold. Everything else is still available and open to offers.

There's might be a better source for the hard line than this but Dorman has a line of hard plastic lines at local auto part stores. The one that would work would be the 5/32 part #47418. Unfortunately have to fix my hard line after removing the vacuum football to work on cleaning up my coolant system. Hope this helps.