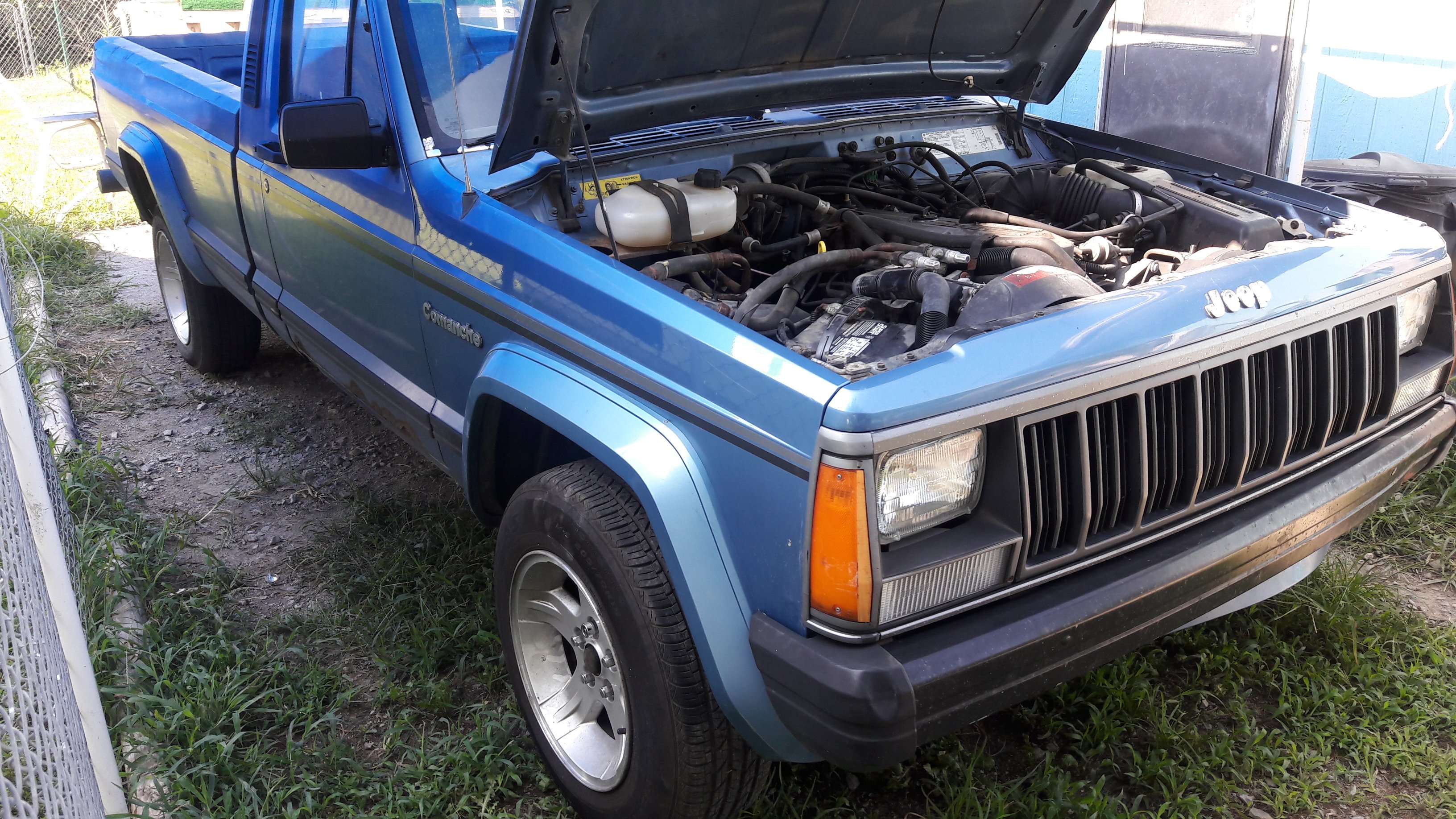 Content Count

114

Joined

Last visited

Days Won

1
Profile Information
Gender
Location
Interests

Life, wife, kids, grandkids, our 2 dogs, 7 cats, and a saltwater aquarium. Love camping, fishing, working on older cars/trucks/vans/boats, woodworking etc...
mrmel2you replied to mrmel2you's topic in 1990

Sorry that I haven't updated this lately. "Ol' Blue" is starting to look a bit better since I first brought him home. Replaced the driver's door, installed a full gauge cluster, f & r shocks, put in a new stereo, swapped the new tires and wheels over from "The Beast" ('90 Sportruck, swb, 2.5, 4 speed). Sold it to get "Ol' Blue". List of a things in it; 4.0, auto, AC, tilt, cruise, comfort/power switch for the trans.. Lower end rattles like crazy, #5 rod bearing is about toast---#4 not so bad. Will be replacing the 4.0 before too long. Bought new carpet, headliner material, seat foam and cover. Will put those in after sealing and lining the entire cab, also putting Dyna-Mat in for sound dampening. Have new front bumper, bumper end caps, bumper guards and new rear bumper to put on after it gets painted (with new striping and lettering). Will keep updating this as it progresses :)

I left the top 4 screws showing for easier removal of the top cover, in case I wanted to add switches/USB ports/power outlets later on.

Thank you. Took a bit of planning, but liked the way it turned out. Was in the middle of making a new one, then I bought the other MJ. New console was going to run from the back wall of the cab all the way under the dash. Heater vents were going to be relocated to the sides, 4 port USB hub, 2-12v power outlets and phone/tablet mount was to be put into it. Here's a pic when it was almost finished, still had to mount the cup holders in it.

mrmel2you posted a topic in 1990

'90 Pioneer, 4.0, automatic, 2wd, ps/pb/ac/cruise. Color-blue. Floor pans are pristine, no rust (not even surface rust). Bought it on 08/06/2018, saved it from local salvage yard. Needs and engine and driver's side door. Build date; 07/89 Plan to rebuild and make it my daily driver, keep it all stock.

Maybe I should have posted this in the "WANTED" section? (Pete, if this post is not allowed here, can you move it there for me?) I made the center console, has two cup holders that will hold 2-32oz. cups. The cubby can hold up to 24 cans of your favorite beverage and still have some room left over. Was built from 1/2" plywood and 3/8" MDF board, sprayed with bedliner inside and out and finished off with 3 coats of satin clear poly' (wanted it to last until I got the new built).

I have a '90 MJ, 127k miles showing, head was rebuilt 2 years ago (4k miles on it) fuel injector and fuel regulator were replaced at the same time. 2wd, swb, 2.5, 4 speed, 4:10 rear, '96 XJ buckets and tilt wheel, custom homemade center console, Leer topper included. This MJ is complete and running (my daily driver), fuel sending unit is new, not rebuilt or swapped out. Front rotors/calipers/brake pads/wheel bearings have been replaced, new full exhaust from manifold to tailpipe. Engine does not smoke, no leaks and no rattles.I am offering this MJ in trade for a decent MJ driver's side door (color unimportant, but prefer blue) and a decent 4.0 engine. I say "decent engine" because I have one already that knocks and smokes---do not need another one. Feel free to call me (Papa Mel) for more info @ (785) 969-8013, please send text before calling, my phone is set to block "unknown" numbers.

Here's some part numbers and specs for the fuel pumps that I have found available from Autozone (through Delphi) prices included. Prices are current in Topeka, Ks., may be higher or lower in some areas, I don't know. Replacement Fuel Pump (no strainer, nothing but the pump and O-ring seal for the lock ring) CFE-0054 List Price--$78.99 System Pressure-17 psi, Flow Rate-28 gph, Maximum Pressure-58 psi HP10147/CHP10147 (complete hanger assembly, sending unit/pump/strainer/hanger/lock ring and seal) List Price-$71.99 System Pressure-36 psi, Flow Rate-32 gph, Maximum Pressure-73 psi Ohms EMPTY-1.0, Ohms FULL-90.0 HP10148/CHP10148 (complete as in HP10147) List Price-$71.99 System Pressure-29 psi, Flow Rate-26 gph, Maximum Pressure-73 psi Ohms EMPTY-105.0, Ohms FULL-5.0 The photos below are showing how I managed to make a "backward" reading sending unit work in my MJ. I used the sending unit from the Delphi HP10148 fuel pump hanger assembly. I spent less than $75.00 the pump assembly, but it was a lot cheaper than having my original sending unit rebuilt, around $200. I did have to make a longer feed wire for the sending unit, the connector is now on the bottom instead of on top. Found out afterwards that I would not have had to do all the extra work (support plate for the float arm pivot point, wiring) if I would have used the HP10147 sending unit instead. I did not know the HP10147 existed until 2 days later. Live and learn

OK folks, I found out some great news on where and how to get ahold of a NEW sending unit for our MJs. First off, my unit was totally fried. I did countless hours/days searching online and calling 100's of places, no luck. I did manage to find a few places that offer cleaning and/or rewiring the original. Prices usually started around $75.00 for just a cleaning, upwards of almost $200.00 for rewrapping the windings. But lucky me, go to your local auto parts store and buy the Delphi HP10147/CHP10147 fuel pump assembly. It is a complete hanger assembly, pump/hanger/filter sock/ and a NEW fuel sending unit. It's for the XJ's, so the hanger will not work on our MJ's---but the sending unit will. Need to grind off 2 rivets, save the little spacers (will need to use them to mount the unit onto your hanger). I used 2 metric stainless steel screws, 4 flat washers, 2 "O" ring lock washers and 2 poly lock nuts to mount it. The pump assembly costs $71.00 + tax. Where else can you buy a NEW fuel sending unit for that price? Plus, you can always sell the hanger and the pump to recover some of your money. The pump is listed for '87-90 Jeep Cherokee with the 4.0, specs read as; Max. Press. 73psi, System Press. 36psi, Average Flow Rate 32gph. Sending unit readings are; Resistance Ohms Empty-1.0, Resistance Ohms Full-90.0. For those of you that have either gotten ahold of sending unit that reads backwards or have changed out your fuel gauge only to have it read it backwards, try this---flip the sending unit over. The top becomes the bottom and you will have to modify/bend the float arm a bit. You will also need to lengthen the feed wire for the sending unit. I know the "flip" works, did it in mine and it works like a champ. I bought the wrong assembly my first time around (Delphi-HP10148/CHP10148). It has the correct pump for our MJ's running either the 2.5 or 4.0 with tbi injected engines. I found this out after the fact.

mrmel2you replied to mrmel2you's topic in Wanted

Hi "Gatorgirl", Took the old sending unit apart, found out the "card" was totally burnt in two pieces, wire winding was shorted out and burned in 4 spots. Had to buy another pump hanger assembly just to get another sending unit. The gas gauge is working once again :) Thank you, Papa Mel Happy Trails :)

mrmel2you posted a topic in Wanted

Hi everyone, found out why my fuel gauge hasn't been working for the past few months. Pulled the fuel pump out and checked the sending unit. Seems there was a lot of resin/corrosion between the "slider arm" and the copper wire strip. It ate through the wiring in 4 different spots (looked like it shorted out). After swapping 3 different fuel gauges, decided to pull the pump today. '90 MJ, 2.5, short bed, small tank. If anyone has one, please let me know what you want ($) for it plus shipping to 66607 (Topeka, Ks.). Many many thanks in advance, Papa Mel

***Side Note*** When I first spun the needle on the fuel gauge, there was some drag on it (felt magnetic in nature). But after a few spins it loosened up. The drag kept coming back after removing and replacing each screw----until the last one. It just popped right over where it should have been at.

That has me stumped, I have no answer-----just that it worked. Maybe being electrical and magnetic----it have "reset" the field in the gauge? I don't know, I'm not a rocket scientist or an engineer. As I said, I run all new ground wires to the big connector (snipped all the stock ones) and the fuel gauge was still pegged out. I did the above----and it worked. If I would have known it was going to work-----I would have made a video of me doing it :)

I wanted to go in with a full gauge cluster, my old cluster was working just fine, but I wanted to know more of what was going on under the hood. Got a cluster from an '89 XJ, mine is a '90 MJ (told it would be plug-n-play). Pulled the battery cables off, cleaned all ground connections, replaced the water temp sensor and oil pressure sensor with ones for gauges. Pulled the old cluster, put the new one in. Put cables back on, turned the key to ON. Fuel gauge was pegged at the 5 o'clock position, voltmeter was the only gauge that worked. Rechecked all grounds and connections, plugged it back in----same thing. Pulled the cluster and put the old one back in, fuel gauge pegged again at the 5 o'clock, getting upset by now. Pulled the old one back out, run all new ground wires, put the new one in----all gauges are now working--except for the 5 o'clock fuel gauge. Got another cluster, had the same issue with the fuel gauge. ***SOLUTION*** with the cluster plugged in, key in ON, remove one screw from the fuel gauge, spin the needle around a few times, replace the screw. There are 5 screws on the fuel gauge-----the last one worked for me. I am so happy, everything now works as it should. Before I buttoned it all up, I replaced all the dash illumination bulbs with LEDs. I left the turn signal indicators and the high beam indicator alone, LEDs in them would be blinding after dark. Hope this will help anyone else that is planning on doing a cluster swap and wind up with the same problem. Happy trails everyone, Papa Mel :)

Need some help/input fellas. Doing a full gauge swap into my '90 MJ, the gauge cluster came from an '89 XJ. No matter what I do, all gauges work except for the fuel gauge, it pegs way past the full mark (5 o'clock position). I ran a new full ground wire to the connector, tied pins 5 and 10 together, same thing. Someone mentioned that maybe the fuel gauge is wired backwards/opposite from my original gauge. Said something about he had to switch two wires to get his to read right. Not sure if he meant the wires near the tank or just switch out two pins on the connector. If it was the pins----which two pins? Picture(s) would really help too. Many many thanks in advance fellas, thank you, Papa Mel

Found the C213 connector at the IGN module, opened the lock cover, pulled out the dust boot on the green wire w/ tracer-----is there a secret/trick to getting the wire out? Can't see where the little lock tab is located on the pin.