View Other Content
Search Articles
Recent Articles
0
November 2016 ● joester1908
Nov 01 2016 09:07 PM | neohic in
News
YEAR/MODEL
●

1990 Comanche Pioneer SWB




ENGINE/PERFORMANCE

●
Completely stock 4.0l




DRIVETRAIN

●
External slave AX15, not sure what it's out of, non vacuum NP231 from an XJ, Advanced Adapters SYE, Tom Woods driveshafts, Dana 44 rear from an 87 XJ. Chromoly shafts. D30 front




COOLING

●
Open system conversion. Toyota Land Cruiser overflow bottle. Flow Kooler water pump.




ELECTRICAL/IGNITION

●
2 E-fans on switches.




SUSPENSION/STEERING

●
Rough Country long arm upgrade. Rubicon Express 5.5" coils and shocks. Stock leafs rear, SOA with trail gear perches. Rubicon Express track bar. Stock steering.




INTERIOR

●
Two-door Cherokee (flip forward) bucket seats, Cherokee center console, Fox flag headliner. New floor pans. Rockford Fosgate 10 inch shallow mount sub behind the seat.




BRAKES

●
All stock...definitely needs to be upgraded.

LIGHTING

●

4 KC Daylighters on rollbar. 55w reverse lights. XJ Wagoneer (4 headlight) Header panel swap.
EXTERIOR

●

XJ Wagoneer Header panel swap. 2x6 steel sliders. Roll bar.

WHEELS/TIRES

●
33x12.5R15 KM2s



MISCELLANEOUS

●
This was my first truck. I 4 wheeled it pretty hard until I bought a TJ. I swapped over a bunch of stuff over to that and now the MJ is just a daily driver. Trying to keep it from getting so beat up off road. It used to have ARBs, AR twin compressor, 44s front and rear, and a Warn 8274. All that is now on the TJ. I am in the process of making the MJ a good work truck / daily driver.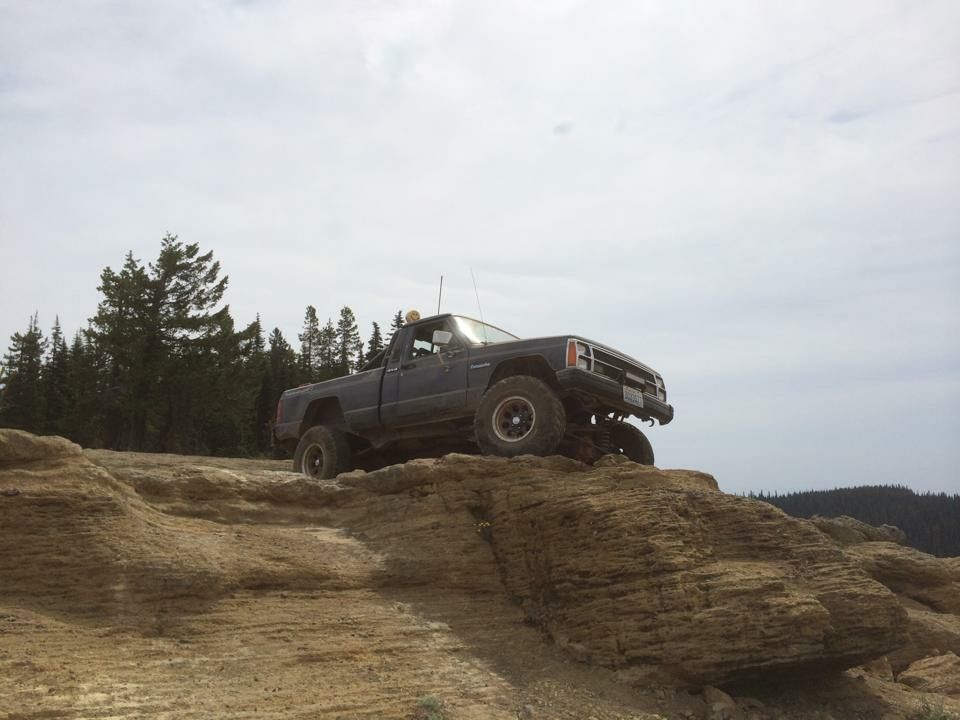 Remember That One Time?... Tell Us Your Best MJ Story

●
A couple of my buddies headed over to Eastern Washington after school one day to do some wheeling / camping. It was about 100 miles on the freeway (which the Jeep did AWESOME, only burned 1 qt
) and did 75 mph no problem. We spent a ton of time on the trails. We ended up coming to a wash out. I put it in first gear, low range, squared up to the hill (the washout was at a 45 degree angle to the road) and went right up it. The guy behind me took it straight on and chewed it up pretty bad. I ended up winching all 3 of the guys in the group over the wash out (I had a winch on my Jeep back then). Then made the trip back over to the west side. That (at the time) was the most amount of miles I had put on my Jeep in one trip, and it definitely impressed me!

CC is Awesome!... Why Do You Think So?

●

CC has been an awesome resource in building and modifying my MJ. You guys are all so helpful and can gave me a lot of help and ideas. Reading through the builds here has given me a ton of inspiration.

Now THAT'S a cool truck! Love it or hate it, that Waggy grill really makes this thing stand out. For the record, I dig it... a lot! The whole build is a fun one to go through. Built a little... built a lot... added some more... unbuilt to keep it nice... Quite the roller coaster! The overall look of the truck is just awesome. Keep up the good work and congratulations!

-Ben
Article: November 2016 ● joester1908