View Other Content
Search Articles
Recent Articles
0
August 2016 - 1987Comanche's 1992
Jul 31 2016 09:17 PM | Automan2164 in
News
YEAR/MODEL ● 1992 SWB MJ (3/92 Build, 7/3/92 in service date)/Born as 2WD Sport (package 25C) with KE8 stripe delete

ENGINE/PERFORMANCE ● Stock 4.0 HO "Power-Tech" Inline 6/ 190HP new. ??? HP at 278K miles but still runs great with 20psi hot oil pressure (stock replacement Melling pump, new RMS, balancer & new oil pan)

DRIVETRAIN ● Born with 2WD internal slave AX-15 and 3.07 open D35. Converted to 4WD using external slave AX-15 from a '94XJ, rebuilt non-ABS, High pinion, large U joint D30 from a '96 XJ (everything new except the carrier/gears), '96 external slip yoke 231J transfer case with stock XJ front D/S, HD Fox body Mustang rear D/S shortened & rebalanced. New side & spider gears in the D35 (still open).

COOLING ● Stock open system with new radiator, water pump, hoses, etc. Mechanical fan and shroud are from a 4.0 Renix XJ, aux electric fan from a '93 XJ.

ELECTRICAL/IGNITION ● Stock HO with Autolite Platinum plugs, HD cap & rotor

SUSPENSION/STEERING ● New Moog ball joints, wheel bearings, new UCA/LCA bushings in stock stamped arms. Stock height with 2WD front springs, 26MM front sway bar from '96 XJ. Stock 14:1 box (12.7:1 ZJ box waiting to go in)

INTERIOR ● HO XJ full gauge cluster with XJ Waggy wood grain bezel, 2 Dr XJ sport buckets on MJ brackets, XJ full console with Pontiac Aztek cup holder, recovered '86 MJ headliner (was black & full of spiders, now clean with fresh gray fabric), Eliminator carpeted panel under the rear window, '89 MJ seat belts, XJ Laredo door panels, Pioneer CD/MP3 player, '90 Suburban steering wheel (not Jeep but also not oozing black goo),

BRAKES ● Stock disc/drum with '96 XJ dual diaphragm booster, '97 ZJ master cylinder, and ceramic pads

LIGHTING ● Stock with Sylvania Halogens

EXTERIOR ● '93 XJ Sport pass fender, header panel, bumper, brackets, fixed outside mirrors from a '96 XJ Classic, Factory SWB "Comanche" bedliner (courtesy of OneOverZero), stainless vent visors. Rust free southern body.

WHEELS/TIRES ● BFG Long Trail T/A tires on factory 15 X 7 Jeep alloy rims, replaced donut spare tire with matching alloy rim

MISCELLANEOUS ● I named her Georgia as I bought her just outside of Atlanta. The PO had slid into a guard rail and she was in rough shape when I found her. I'd never towed anything before the day I brought her home on a U-Haul trailer but it seemed like the perfect reason to give it a try. She's my third MJ: I had an '87 4 cyl 2WD and a '90 6 cyl 4WD.

Remember That One Time?... Tell Us Your Best MJ Story ● After completing my 4WD conversion I was eager to test Georgia out in the snow. I got my wish when we had a few inches of unexpected snow while I was at work. I left work, things were going fine, and I was quite pleased with the conversion…until I got about 2 miles down the road. The truck started bucking, surging, and making a horrific grinding, groaning racket. I pulled over and was expecting to find a mess under the truck but everything looked ok. I tried 4WD 2 more times and she'd do it as soon as I hit 30mph. I had a challenging ride home in 2WD on hilly terrain with no weight in the bed. I eventually figured out the mom & pop junkyard that pulled the front axle, T-case, and driveshafts had bent the T-case shift linkage and shift handle. It wasn't obvious until I put the replacement linkage and handle side by side.

CC is Awesome!... Why Do You Think So? ● There are tons of great ideas on CC that I've harvested for use on my MJs over the years. People are willing to help and aren't condescending. If you ask an intelligent question you will receive an intelligent answer.
The beginning: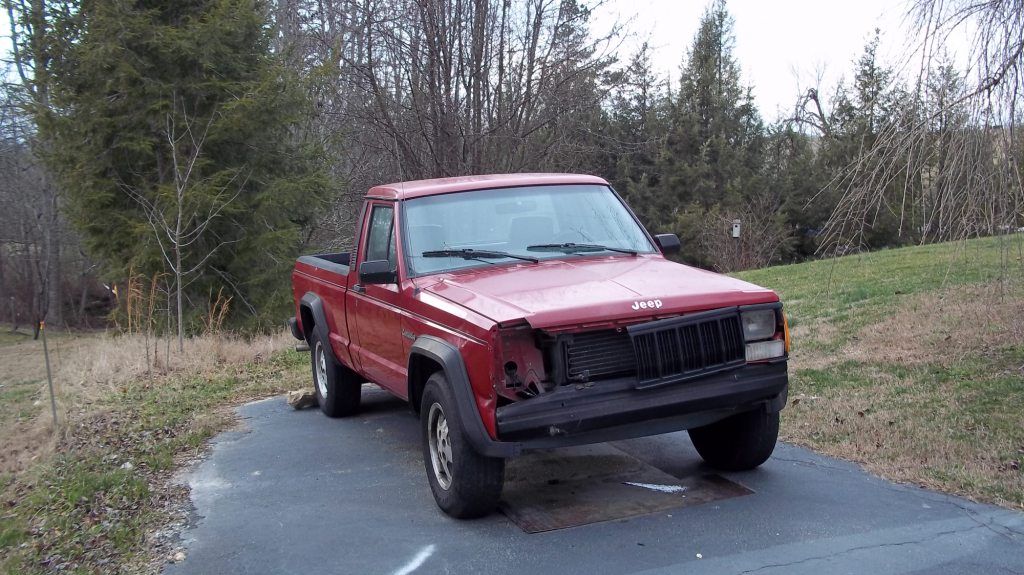 Glamour shot: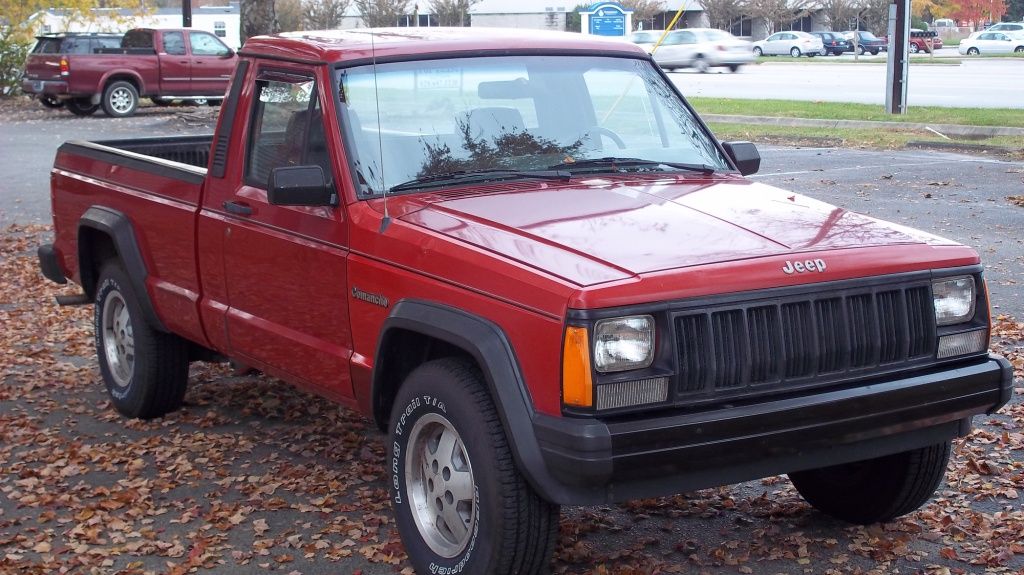 4WD conversion parts:




Same axle after rebuilding it:




Undergoing transplant: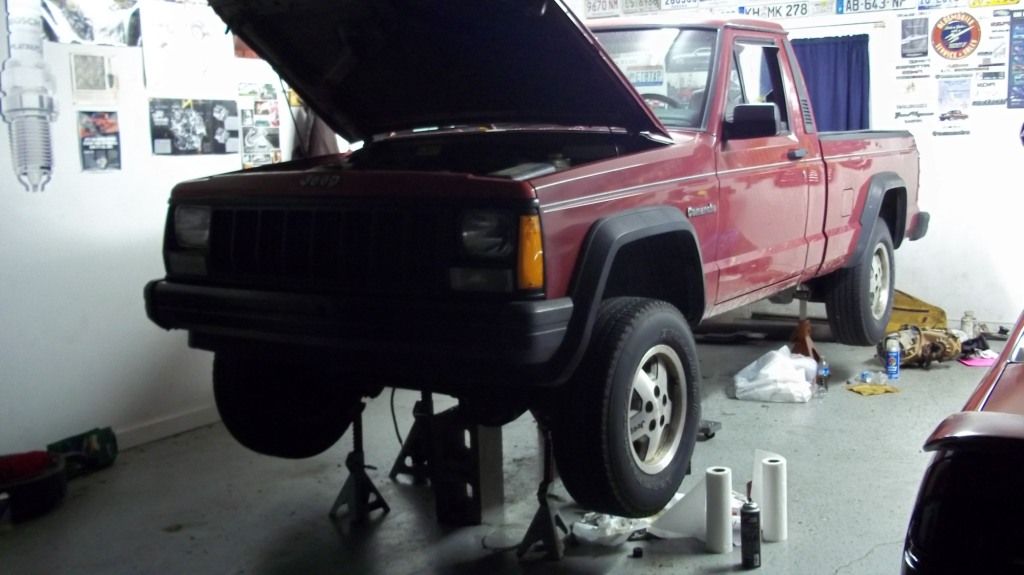 I like the Cherokee reservation too


I like this thing a lot. You saw the potential in a neglected MJ that needed a bit of life support and sweat equity. You are building it into the perfect weekend warrior with every repair or upgrade you make, keeping it tastefully in line with what a MJ should have been from the factory. Nothing overdone, just a clean truck that can turnkey drive across the country and lap up the miles. The old man may have been around the block a time or two, but he's seeing new life thanks to your time and efforts.
Allow me to be the first to congratulate you on your MJOTM honor.
- Rob
Article: August 2016 - 1987Comanche's 1992