View Other Content
Search Articles
Recent Articles
0
April 2017 ● Fiatslug87's '88, '89, '90
Apr 01 2017 02:42 PM | neohic in
News
YEAR/MODEL
●
1990 Sportruck, SWB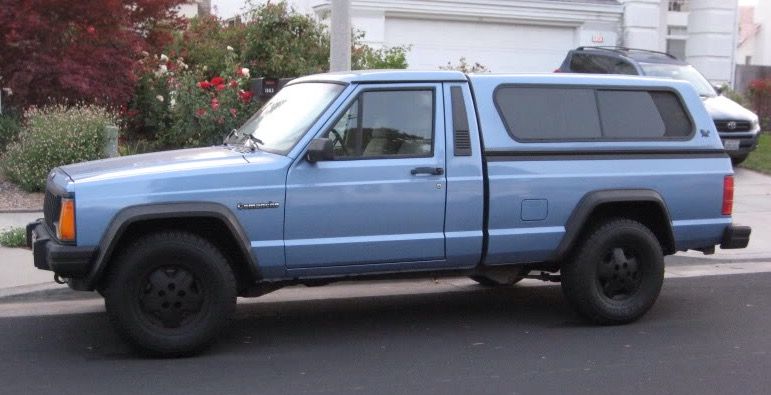 1989 Pioneer, LWB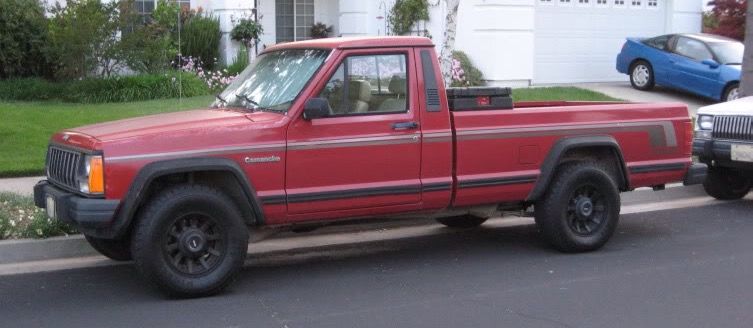 1988 Pioneer, SWB
ENGINE/PERFORMANCE
●
All are stock 4.0 L. The '88 has an '89 engine from a fellow CC member with Bosch 4-hole 19 lb fuel injectors and a Dynomax header.
This was the condition of the transplant '89 motor with ~100K miles and oil changed every 3,000 miles! You could eat off of it.
And finally installed
DRIVETRAIN
●
1990: Stock 2WD with a D35, 3.10 gears, AX15
1989: Stock 2WD with a D44, 3.54 gears, floor shift AW4
1988: Stock 4WD with D35/D30, 3.10 gears, now AX15/NP321
COOLING
●
All have stock closed systems with Mac's aluminum tank.
ELECTRICAL/IGNITION
●
All stock
SUSPENSION/STEERING
●
All stock with OME 60046/60032 shocks
INTERIOR
●
1990: Tan with stock vinyl flooring, black leather Jeep steering wheel, bucket seats, full center console and door panels from donor XJs.
1989: Tan with stock carpet, tan leather Jeep steering wheel, full center console, folding bucket seats from a CC member with XJ seat covers, woodgrain instrument panel bezel and door panels from a '96 Country XJ.
1988: Burgundy with stock carpet, burgundy leather Jeep steering wheel, full center console, folding bucket seats and door panels from donor XJs, Laredo instrument panel bezel and custom sliver accents.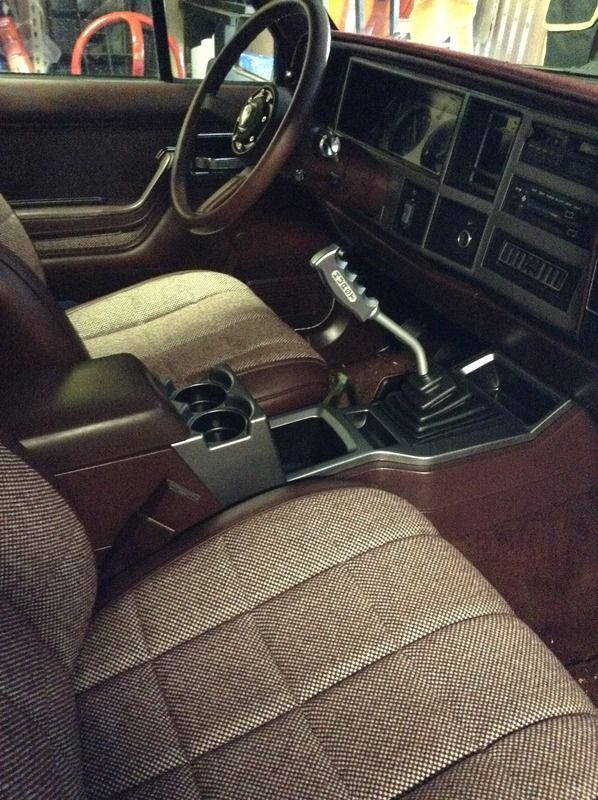 BRAKES
●
All stock
LIGHTING
●
Stock with Marchal 750 fog lights through stock fog light switches, the '88 has chrome Marchal 850GT fog lights with a pair of chrome 750s waiting in the wings and a stock roll bar light switch waiting for a roll bar. All have LED B-pillar and courtesy lights.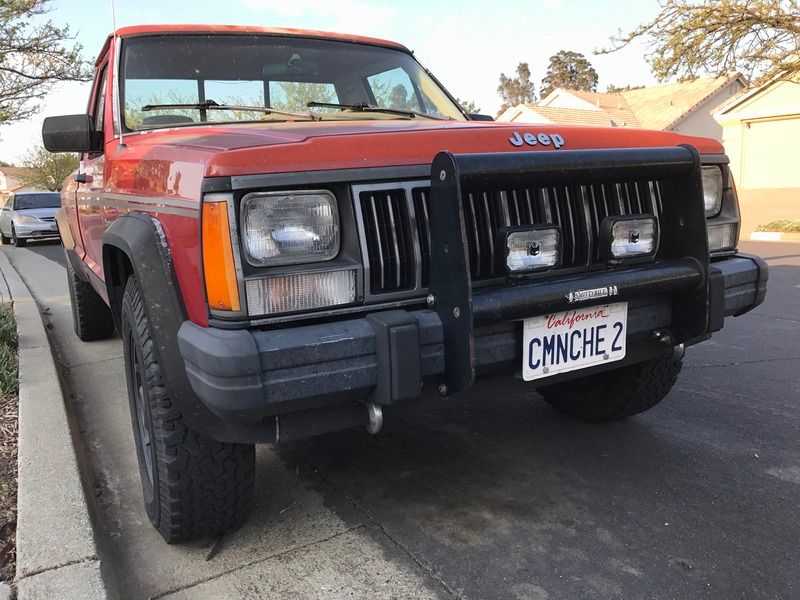 EXTERIOR
●
1990: Spinnaker Blue Metallic (PB3), shell painted to match, 10 slot grill.
1989: Colorado Red (PE4), gold Pioneer stripes
1988: Pearl White (PWB), burgundy Pioneer stripes, Chrome bumpers/door handles/tailgate handle/mirrors/window trim/drip rails, '85 XJ 21 slot chrome grill.
WHEELS/TIRES
●
All have 235/75/15 tires on black powder coated stock aluminum Jeep wheels (10 Hole Eliminator, Turbine, Five Spoke)
MISCELLANEOUS
●
All have Jeep AM/FM cassette radios, dash clocks, sliding rear windows, Jeep/AMC bed mats, DrawTite hitches and factory tow hooks. The '88 has stock full skid plates and I have OEM front/rear mud flaps awaiting installation.
Remember That One Time?... Tell Us Your Best MJ Story
●
My best MJ story is actually purchasing the '90 new. It was July 1990, we were heading to my in-laws and stopped at all the Jeep dealers on the 100 mile route looking for a Comanche, this was before the days of on-line inventories. No dealers had any and one tried selling me a Shelby Dakota, so after we got to our destination we decided to keep driving and finally found a dealer, another 50 miles away, that had two on the lot, one was a white automatic 4x4 and the other a blue five-speed 4x2. I could not justify the extra cost of the 4x4 so I purchased the 4x2. Having only driven a manual transmission about twice before made the test drive interesting to say the least.
I then had to drive it back home but I got the hang of it, even kept the original clutch for 195K miles!
CC is Awesome!... Why Do You Think So?
●
As everyone else has said, members on this site are always willing to help without drama (usually) and members have even offered parts for free just to get others going! It is also nice to know I am not the only one with this sickness.
Thanks to everyone that has helped me along with my projects by providing parts, advise, knowledge and inspiration.
Huge, HUGE tip of the cap, sir! Being an original owner is a huge investment in keeping it on the road and looking so good for so long. The other two trucks are just beautiful too! With all the modifying and "upgrades" going on with these trucks it's very refreshing to see three fine examples of what they all started out life as. Congratulations and enjoy your month!
-Ben
Article: April 2017 ● Fiatslug87's '88, '89, '90